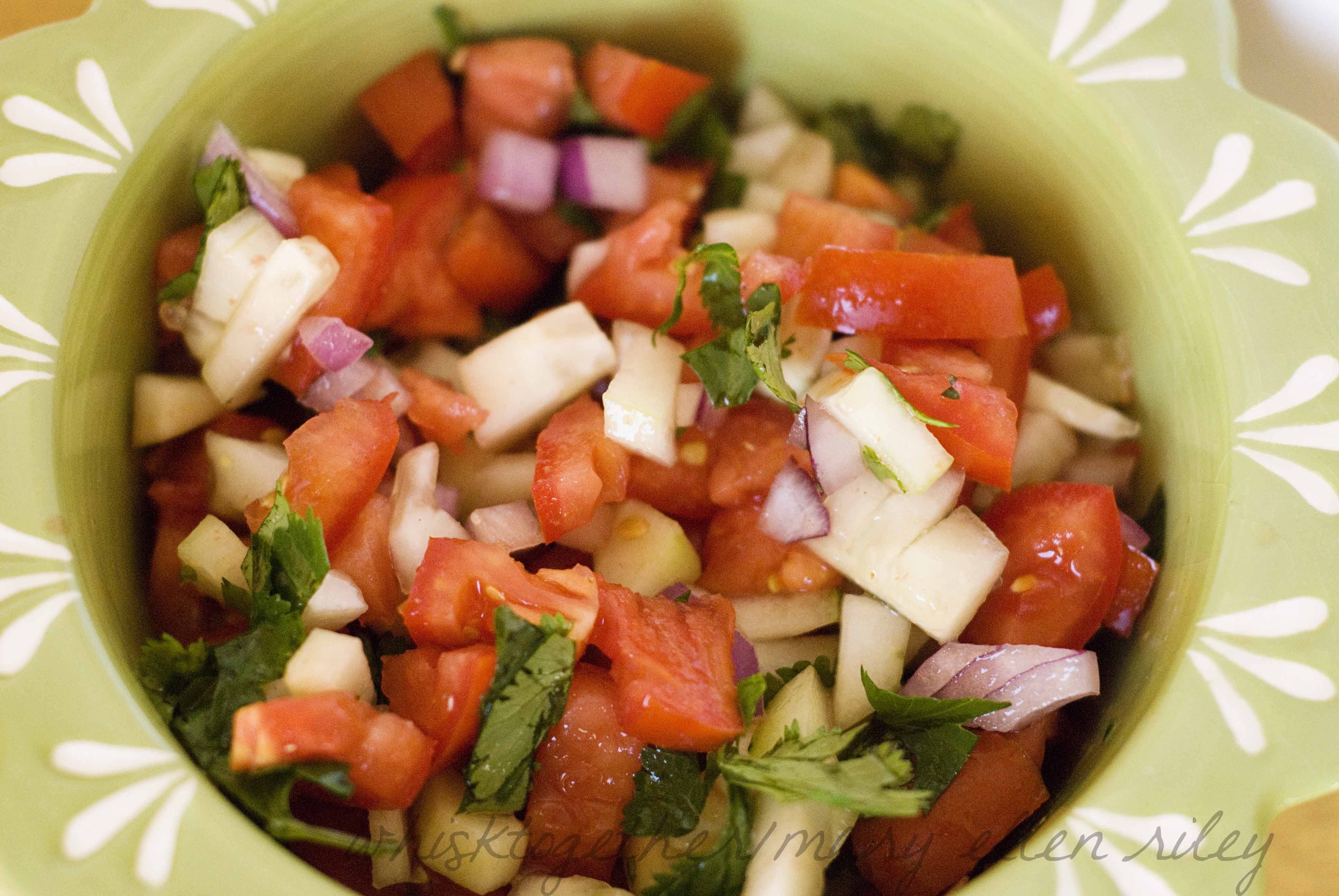 I had this salad like 3 years ago and still remember how good it is.  We had a yoga class and this was what we ate afterwards.  All of us loved it and I am now getting recipe requests for it.
I think it is pretty healthy myself, but now I question ever labeling anything "healthy" on here again.  I see "healthy" on Pinterest all the time and it is starting to drive me a little crazy.  "This dish is "healthy" with only 50 calories per serving!"  Never mind that it is all artificial flavoring, coloring, Polysorbate 60 and sodium nitrates.  Or something that is "healthy" to one person like sliced apples and peanut butter may be deadly to another.
I do agree with Michael Pollan about eating real food and less processed food.   This is about as little processing as a food gets without being totally raw and eating it literally while still in the garden.  Kachumber Salad is an African-Indian dish that closely resembles pico de gallo.  I don't add chilis to it.  Instead, I put some hummus on a piece of flat bread like naan (comes in regular or whole wheat), then top this on the hummus.   It isn't terribly expensive and very refreshing.  Try with tortilla chips or top a pita sandwich with it.  My husband even LOVES it.  And he'd rather eat a cow any day of the week.  Oh, who am I kidding, any hour of the day!  

Kachumber Salad
yield 6 servings
1 cucumber, seeded and peeled and chopped fine
4 tomatoes (or 5 roma tomatoes), chopped
1/2 red onion, chopped fine  (I use a little less if the red onion smells/tastes really strong)
2 handfuls of cilantro (1/2-3/4 cup because I love cilantro), chopped
dash of ground coriander
1/2 tsp. sugar
a dash of salt
1.  Mix it all up and let sit in the fridge for 1-2 hours.
2.  William thought it lost its flavor the next day.  Like most fresh items though, I wouldn't make this too far ahead of time.
Recipe originated from my yoga friend Robyn Prusky