Whole Wheat Blueberry Crumb Muffins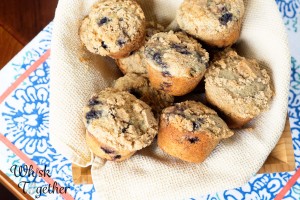 :
Mary Ellen P. Riley / Whisk Together
1 and ½ cups white whole wheat flour
½ cup sugar
¼ cup brown sugar
½ tsp. salt
2 tsp. baking powder
⅓ cup vegetable oil or applesauce
1 egg
⅓ cup milk
1 tsp. vanilla extract
1 cup fresh or frozen blueberries
Topping:
2 Tb. butter, 4 Tb. flour, 4 Tb. brown sugar
Preheat oven to 400 degrees. Line or grease a muffin pan.
In a great big bowl mix up the dry stuff: flour, sugar, brown sugar, salt and baking powder.
In a medium bowl mix the wet stuff: vegetable oil, egg, milk and vanilla.
Add the wet stuff to the dry stuff and fold in to combine. Leave some flour streaks.
Fold in the blueberries.
Divide the batter between the wells. Sometimes I get only 10 muffins instead of 12.
Mix the topping ingredients in another bowl. It will form crumbles.
Top the batter with the topping and gently press down.
Bake for 20 minutes or until a toothpick comes out of the center clean.
If using frozen blueberries and you do not want any blue streaks at all, then you can rinse the blueberries in a colander and pat dry on a paper towel. This should eliminate that purple muffin color that sometimes results from using frozen blueberries.

To avoid the blueberries falling to the bottom, toss them in a tablespoon of the dry ingredients before mixing.

Adapted from Allrecipes.com
Recipe by
Whisk Together
at http://www.whisktogether.com/2015/05/04/whole-wheat-blueberry-crumb-muffins/