Slow Cooker St. Louis Style Ribs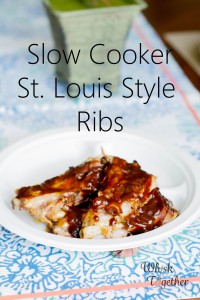 :
Mary Ellen P. Riley / Whisk Together
1 and ½ tablespoons sweet paprika
1 tablespoon brown sugar
⅛ teaspoon cayenne pepper
½ tablespoon salt
½ tablespoon black pepper
3 pounds St. Louis style ribs
1 and ½ cups BBQ sauce
cooking spray
Spray the inside of a 5-7 qt. slow cooker with cooking spray.
In a small bowl, mix the spices together: paprika, brown sugar, cayenne, salt and pepper. Rub onto the meat.
Place meat into the slow cooker with the meaty side facing outward.
Pour half of the BBQ sauce onto the ribs.
Cook on low 6-8 hours.
At this point, you can remove from the slow cooker and serve with the rest of the BBQ sauce.
Alternatively, at this point you could move them to a foil-lined cookie sheet and tent with foil. Meaty side DOWN.
Broil the ribs 10" away from the heating element. Skim the leftover liquid in the slow cooker of fat and discard. Brush some of the leftover liquid onto the ribs. Broil about 3 minutes - until browning occurs. Flip and brush again with liquid. Broil another 10 minutes - until browning occurs. Rest 10 minutes. You can boil and reduce the liquid more to serve on the side.
Recipe adapted from America's Test Kitchen "Slow Cooker Revolution"
Recipe by
Whisk Together
at http://www.whisktogether.com/2015/06/01/slow-cooker-st-louis-style-ribs/