Lemon Blueberry Zucchini Bread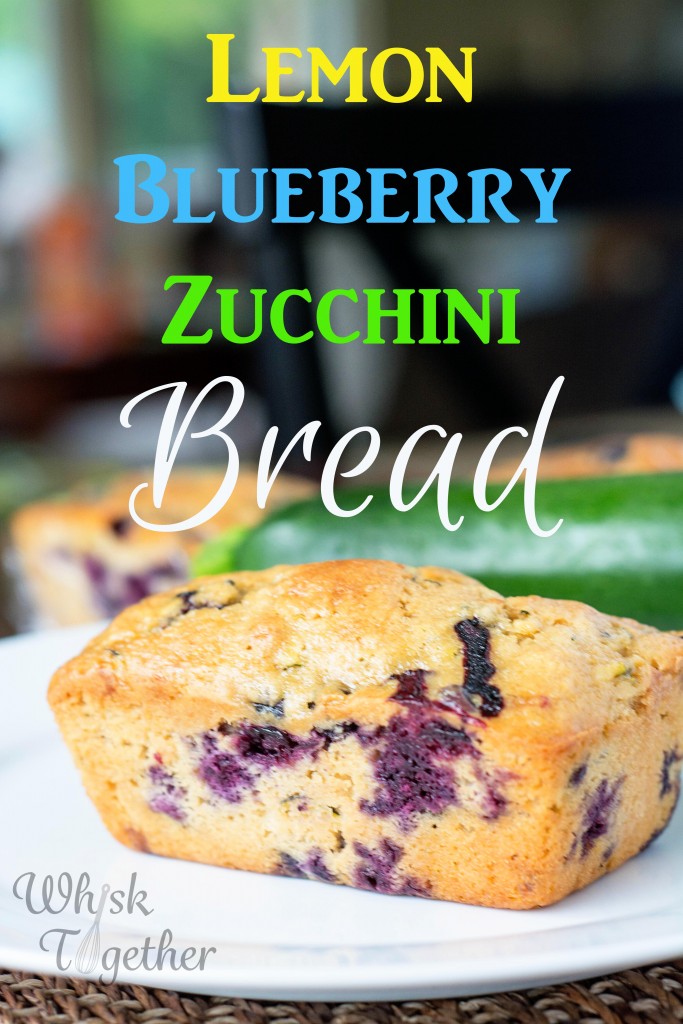 :
Mary Ellen P. Riley / Whisk Together
3 eggs
1 cup vegetable oil or applesauce
3 tsp. vanilla
1 cup sugar
1 cup brown sugar
2 cups shredded zucchini
1 and ½ cups all-purpose flour
1 and ½ cups white whole wheat flour (or whole wheat, or all-purpose)
1 tsp. salt (I used kosher)
1 tsp. baking powder
¼ tsp. baking soda
zest from 2 lemons or 2 Tb. lemon juice powder
1 pint fresh blueberries
Preheat oven to 350 degrees. Spray with baking spray or grease 6 mini loaf pans, or muffin pans or 2 - 9x5 loaf pans.
In a medium bowl, add the eggs. Whisk together.
Add the oil, vanilla and sugars. Whisk together. Fold in the zucchini.
In a great big bowl, whisk together the dry stuff: flours, salt, baking powder and baking soda.
Add the wet stuff to the dry stuff. Stir until barely combined and you still see streaks of flour.
Add the blueberries and fold in gently.
Divide the batter among the sprayed muffin or loaf pans.
Bake mini loaves for 40-45 minutes.
Bake muffins for 18-20 minutes.
Bake mini muffins for 12-15 minutes.
Bake a 9x5 loaf for 1 hour and 10 minutes - making sure to cover with foil about halfway through baking to avoid over-browning the top.
Test with a toothpick - it should be free of liquid and may have a few tiny crumbs. Keep testing as sometimes adding more pans to the oven can affect bake times. The tops should be light golden brown and some of the loaves will have cracked tops with no liquid in the middle.
Let it cool for about 10 minutes. Turn it out onto a wire rack to cool longer.
Recipe adapted from allrecipes.com
Recipe by
Whisk Together
at http://www.whisktogether.com/2015/06/24/lemon-blueberry-zucchini-bread/