Pork Tenderloin and Beans: 30 Minute Meal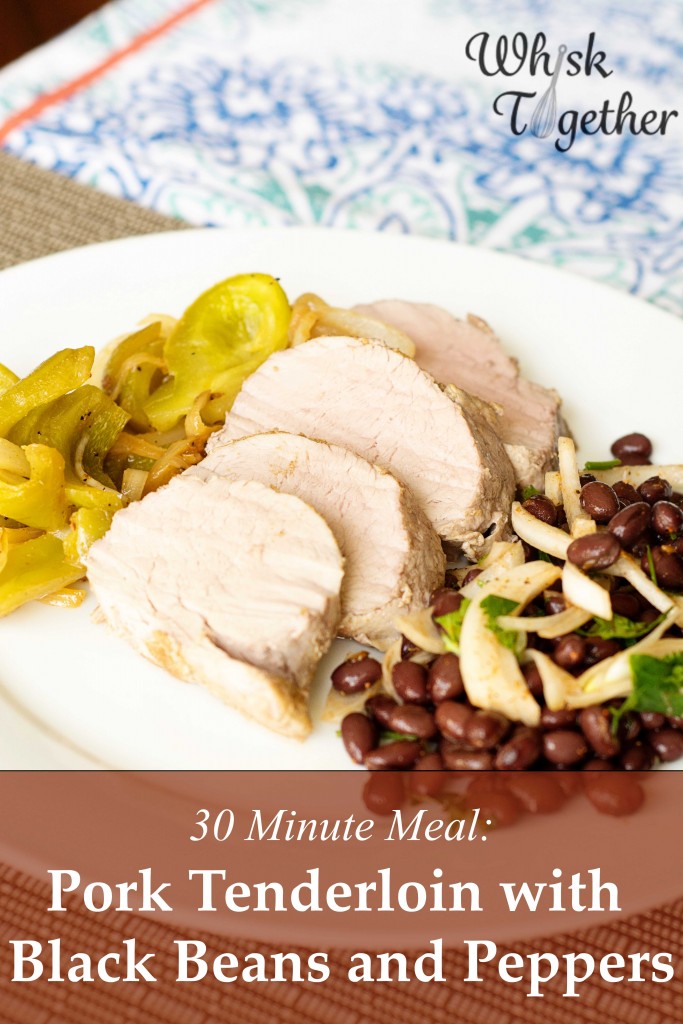 :
Mary Ellen P. Riley / Whisk Together
1 red onion, sliced thin
3 Tb. lime juice (fresh or bottled), divided
2 tsp. ground cumin, divided
salt
1 and ½ lbs. pork tenderloin, trimmed of fat and silver skim
2 Tb. olive oil, divided
3 orange or red peppers (green will work too), cut into strips
1 - 15 oz. can black beans, rinsed and drained
1 tsp. honey
½ cup cilantro, chopped
Preheat oven to 425 degrees.
In a medium bowl, mix half the onion, 2 Tb. lime juice, ½ tsp. cumin and pinch of salt.
In a large skillet, heat 1 Tb. olive oil on medium high. Brown the pork for 8 minutes. Put the pork into a roasting pan, cookie sheet or casserole dish. and cook about 15 minutes or until 145 degrees.
Now, into that empty skillet on the stove add the rest of the olive oil. Add the peppers. Cook a few minutes until a little soft. Add ½ cup water and some salt. Let sizzle and cook off for about 4 minutes. Remove from heat and stir in the onion/lime juice mixture.
In a medium bowl, toss the beans, other half of the onion, honey and cilantro with 1 Tb. lime juice. Put this in the microwave for about 45 seconds if you want the beans slightly warmed.
Recipe adapted from Food Network Magazine
Recipe by
Whisk Together
at http://www.whisktogether.com/2015/07/15/pork-tenderloin-and-beans-30-minute-meal/