Healthier Chicken Parmesan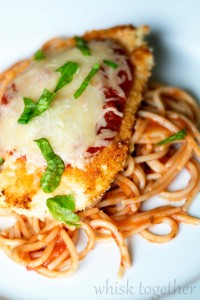 :
Mary Ellen P. Riley / Whisk Together
4 chicken breast, cut in half lengthwise for 8 breasts
¾ cup seasoned breadcrumbs (or as noted make your own and add 1 tsp. Italian seasoning)
¼ cup grated Parmesan cheese
2 Tb olive oil
¾ cup mozzarella cheese
1 cup marinara or homemade sauce
fresh basil, chopped
Preheat oven to 425 degrees.
Prep a rimmed cookie sheet or large bar pan with baking spray or parchment paper.
In a shallow dish, mix the breadcrumbs and cheese together.
Brush olive oil on both sides of chicken breast and dip into breadcrumbs.
Bake 20 minutes.
Flip chicken over and bake another 5-10 minutes or until golden brown.
Add 1 T of sauce (or more) and 1.5 T of mozzarella cheese to each chicken.
Put back into the oven until cheese has melted - about 5 minutes.
Sprinkle with basil and serve over spaghetti, spaghetti squash, brown rice pasta or zoodles.
When dipping raw chicken or anything raw, I find it easiest to make sure to use my left hand (non-dominant) to handle the raw meat. This way my dominant hand (right hand) can go about sprinkling salt, turning on the oven, etc. Usually dipping or trimming meat requires dexterity in the dominant hand and I leave the other hand to handle the messy stuff.

Recipe from Skinnytaste
Recipe by
Whisk Together
at http://www.whisktogether.com/2015/08/10/healthier-chicken-parmesan/