Lemon Cream Cheese Dip & Cheesecake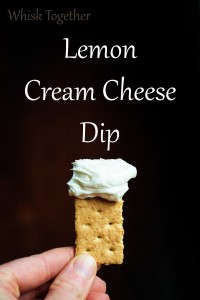 :
Mary Ellen P. Riley / Whisk Together
4 ounces softened cream cheese or neufchatel cheese
4 ounces (1/2 cup) plain Greek yogurt (or vanilla)
1 Tb. lemon juice powder or ½ tsp. lemon zest (or favorite flavor) or ½ tsp. vanilla extract (or other)
2 Tb. sugar or powdered sugar
For more of a cheesecake and less of a dip:
16 oz. softened cream cheese or neufchatel cheese
½ cup powdered sugar
1 tsp. lemon juice
½ tsp vanilla extract or 1 tsp. lemon zest
1 cup Greek yogurt - plain or vanilla
To make it fast: mix everything together with a fork. This will be faster, but you may also have lumps from the cream cheese.
To make it pretty: make sure the cream cheese is softened and beat on low to medium speed with beaters for 1-2 minutes or until smooth. Add the sugar or powdered sugar and beat until smooth. Add the remaining ingredients and beat until mixed well.
Dip can be eaten immediately.
Cheesecake needs mixed and put into the fridge until firm and ready to serve - about 2 plus hours.
Reduce or double/triple/quadruple as needed!
Don't be afraid to change the flavors. The blog post has LOTS of great flavor combinations like almond and cherry, vanilla wafers and banana, raspberries and lemon, etc.
Recipe by
Whisk Together
at http://www.whisktogether.com/2015/09/03/lemon-cream-cheese-dip-cheesecake/