Slow Cooker Chicken Philly Cheesesteak Sandwiches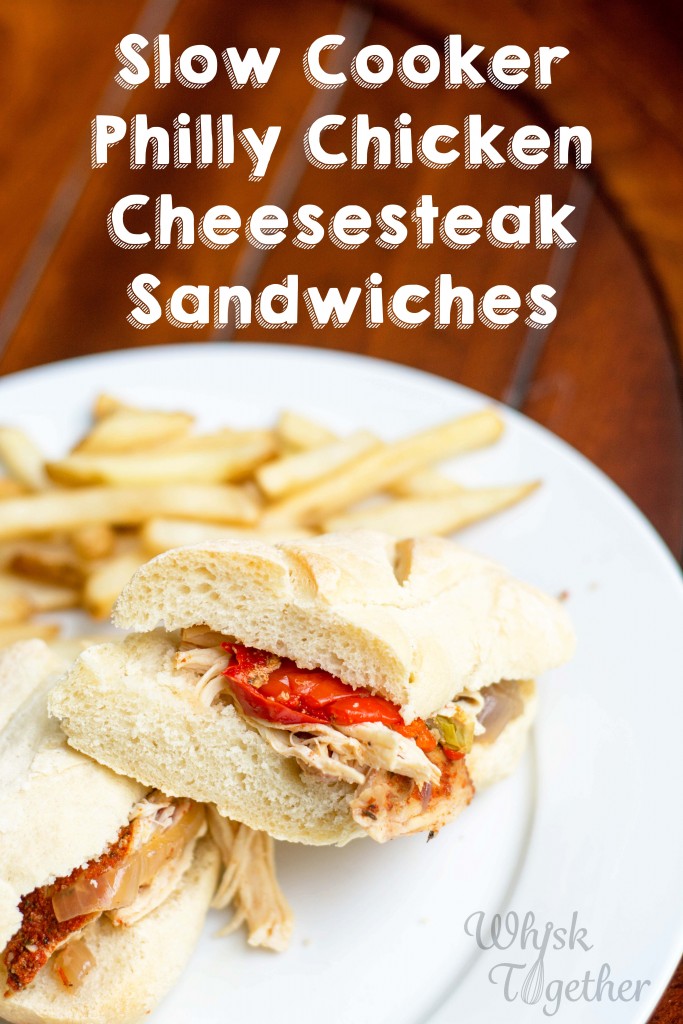 :
Mary Ellen P. Riley / Whisk Together
1 tsp. paprika (regular or smoked, I like smoked)
½ tsp. black pepper
1 tsp. salt
1 tsp. garlic powder
½ tsp. coriander
¼ tsp. red pepper flakes (omit if you don't like spicy)
½ tsp. dried thyme
2 bell peppers (any color), sliced into strips
1 yellow or white onion, sliced into strips
2 pounds boneless, skinless chicken breast or thighs
½ cup water or chicken broth
sliced provolone
baguettes or hoagie buns
In a small bowl, combine the spices.
Add the peppers and onion to the slow cooker. Sprinkle half of the spice mixture on top.
Add the chicken onto the peppers and onion. Sprinkle the rest of the spices on top.
Pour the water or broth into the slow cooker on the side so that the spices don't come off the chicken.
Cook chicken breasts for 3-4 hours on low. Cook chicken thighs for 4-5 hours on low.
Towards the end of cooking time, slice the buns or baguette in half lengthwise. Shred the chicken in the slow cooker with some tongs and place on top of the bun. Add cheese. Top with a bun, or broil it with the cheese and then place the top on.
Recipe slightly adapted from Mel's Kitchen Cafe
Recipe by
Whisk Together
at http://www.whisktogether.com/2015/09/05/slow-cooker-chicken-philly-cheesesteak-sandwiches/