Cranberry Apple Cake and Merry Christmas!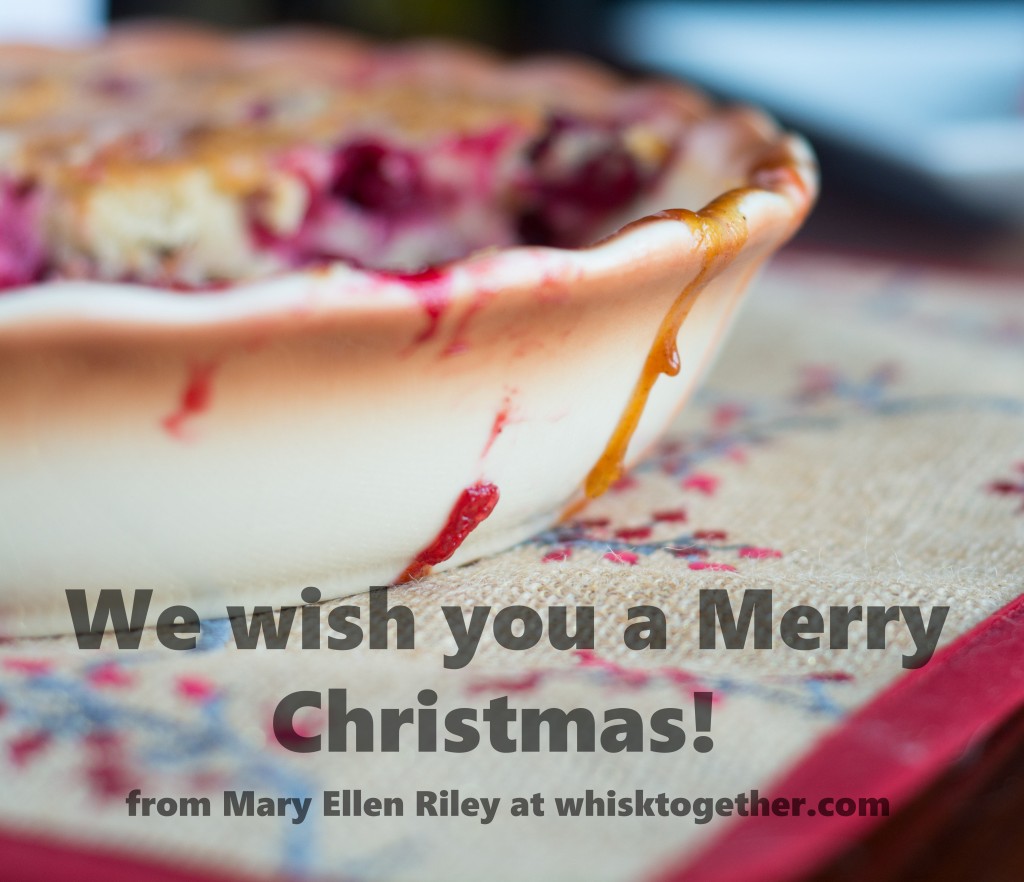 :
Mary Ellen P. Riley / Whisk Together
12 ounce bag of fresh cranberries, rinsed and drained; or a bag that was frozen and thawed
1 Granny Smith apple, cored and diced (you can peel it too if you like)
1 and ⅛ tsp. cinnamon
¼-1/2 cup brown sugar (1/4 cup for a tart cake, ½ cup for a sweet cake)
2 oranges
2 eggs
1 cup + 1 Tb. sugar
½ cup (1 stick) unsalted butter, melted and cooled; or ½ cup applesauce
1 tsp. vanilla
¼ cup sour cream or plain Greek yogurt
1 cup all purpose flour or white whole wheat flour
¼ tsp. kosher salt
Preheat oven to 325 degrees.
Spray a 10" or 9.5" ceramic or glass pie pan with cooking spray. Set it on top of a rimmed cookie sheet or rimmed pan.
In a large bowl, toss together cranberries, chopped apple, 1 tsp. cinnamon and brown sugar. Zest the 2 oranges to get 1 Tb. of orange zest. Now, cut them in half and squeeze out ¼ cup of orange juice. Pour into pie pan.
In another large bowl, beat the eggs with a mixer for 2 minutes on medium-high. Add 1 cup sugar, butter (or applesauce), vanilla and sour cream (or Greek yogurt). Beat on medium until mixed together.
On low or "stir", add the flour and salt. Mix until it just combines. Pour this batter over the fruit.
Mix together the other 1 Tb. of sugar and ⅛ tsp. of cinnamon. Sprinkle on top of the cake batter.
Bake 55-60 minutes. The top will be a pretty golden brown.
Wait for this cake to cool an hour or two. I like mine cold from the fridge similar to how I like to eat apple pie. Or, warm it up. Or serve while warm with whipped cream or vanilla ice cream. Or simply serve for breakfast or quick snack.
Recipe adapted from Ina Garten "How Easy is That?"
Recipe by
Whisk Together
at http://www.whisktogether.com/2015/12/25/cranberry-apple-cake-and-merry-christmas/