Pressure Cooked Chicken Enchiladas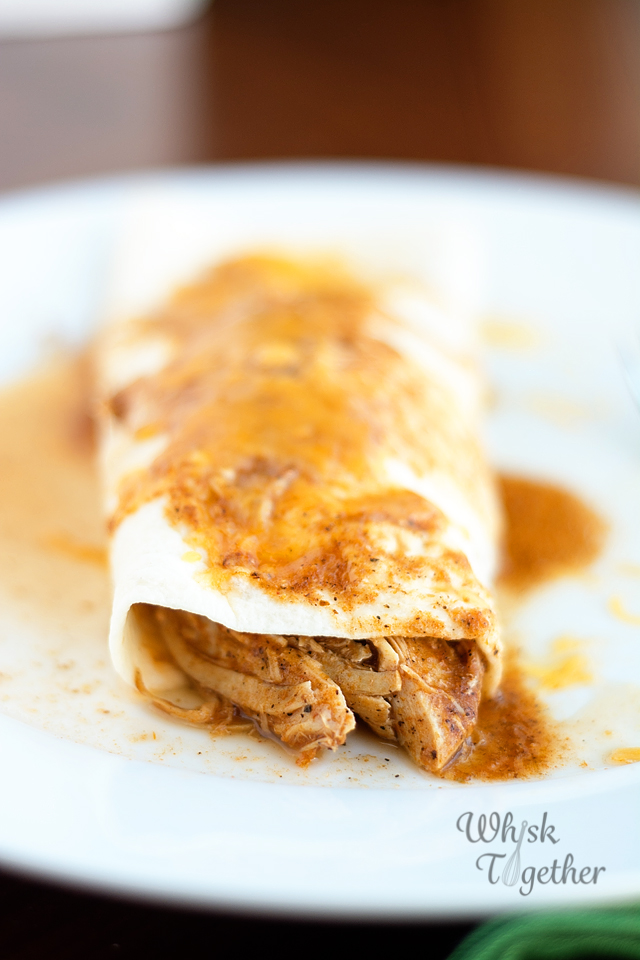 :
Mary Ellen P. Riley / Whisk Together
1 tsp. dark brown sugar or brown sugar
1 tsp. ground cumin
1 tsp. smoked paprika
½ tsp. salt
½ tsp. ground black pepper
½ tsp. onion powder
¼ tsp. garlic powder
4 - (6-8 oz.) chicken breasts
1 Tb. olive oil
1 cup (8 oz. can) tomato sauce
½ cup light colored beer or chicken broth
2 Tb. chili powder
2 Tb. fresh lime juice
tortillas, tortilla chips, salsa, cheddar cheese (optional add ins)
In a small bowl, mix the spices together (from brown sugar to garlic powder). Sprinkle onto the chicken and pat down.
Heat the oil in the pressure cooker on the saute setting. Brown the chicken on all sides for about 5 minutes.
Now add the tomato sauce, beer/broth and chili powder. Cook for 14 minutes on high pressure.
Once finished, use the valve to quickly release the steam.
Stir in the lime juice and shred the chicken apart. Or eat the chicken as is with the sauce. Or add the chicken to some tortillas with cheese and bake for 15 minutes or so in the oven.
To make this in the slow cooker: Add all ingredients except the lime juice. Cook on high 3-4 hours. Shred and eat.
To make this in the oven: Add the spiced chicken to a 9x13 pan. Mix the sauce and pour on top. Cover with foil and bake at 375 degrees for 35 minutes or until the chicken is no longer pink in the middle.
Recipe adapted from The Great Big Pressure Cooker Book
Recipe by
Whisk Together
at http://www.whisktogether.com/2016/01/10/pressure-cooked-chicken-enchiladas/