Sweet Potato Crust Quiche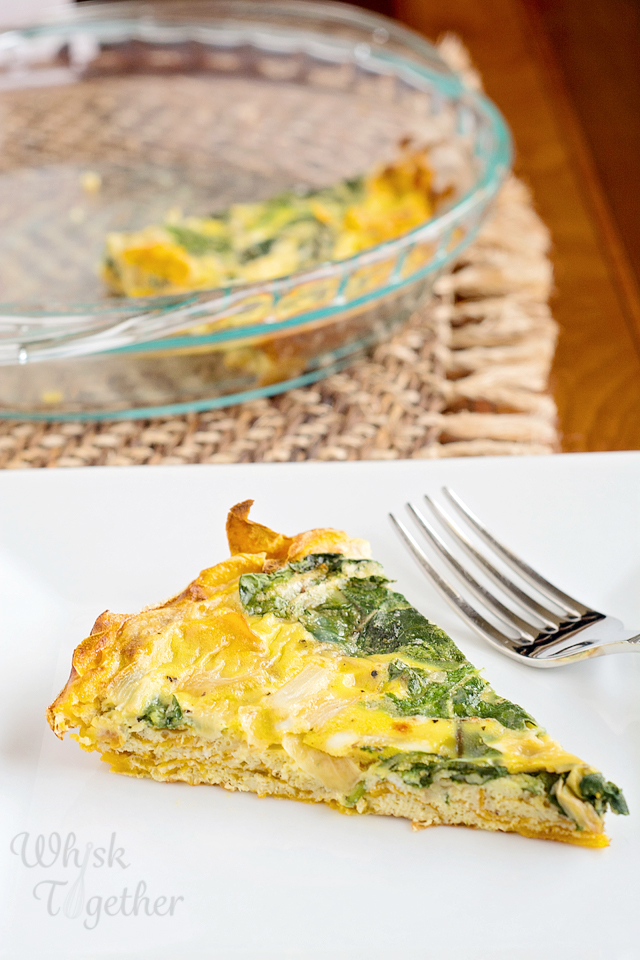 :
Mary Ellen P. Riley / Whisk Together
1-2 medium sweet potatoes, peeled and cut into ⅛"- ¼" thick slices
½T butter
1 shallot or ¼ yellow onion, finely diced
1 clove of garlic, minced or pressed
1 handful of baby spinach or spinach/kale mix
6 eggs
2 Tb. milk
2 Tb. grated Parmesan cheese
salt and pepper to taste
No-salt seasoning such as Trader Joe's 21 Seasoning Salute, Mural of Flavor, Mrs. Dash, etc. (optional)
Preheat oven to 400 degrees.
Spray a pie pan with cooking spray.
Lay out the sweet potato slices onto the pie pan. Overlap as needed.
Bake for 10 minutes.
While baking, melt the butter in a small skillet over medium heat. Add onion/shallot. Stir and cook until transparent - about 5 minutes.
Add garlic. Cook 30 seconds.
Add the spinach. Coat in the butter/onion mixture. Stir until wilted.
In a large bowl, whisk together the eggs, milk, Parmesan cheese, salt, pepper and any optional seasonings.
Add the spinach mixture to the eggs. Stir.
Pour the whole egg mixture into the sweet potato crust.
REDUCE temperature to 350 degrees. Bake 25-30 minutes. The quiche will be done when you jiggle the pan and there is no liquid or heavy jiggling in the center.
Remove from oven and cool about 3-5 minutes. Slice into wedges and serve.
Recipe by
Whisk Together
at http://www.whisktogether.com/2016/01/14/sweet-potato-crust-quiche/