Chewy Chocolate Chip Cookies 2.0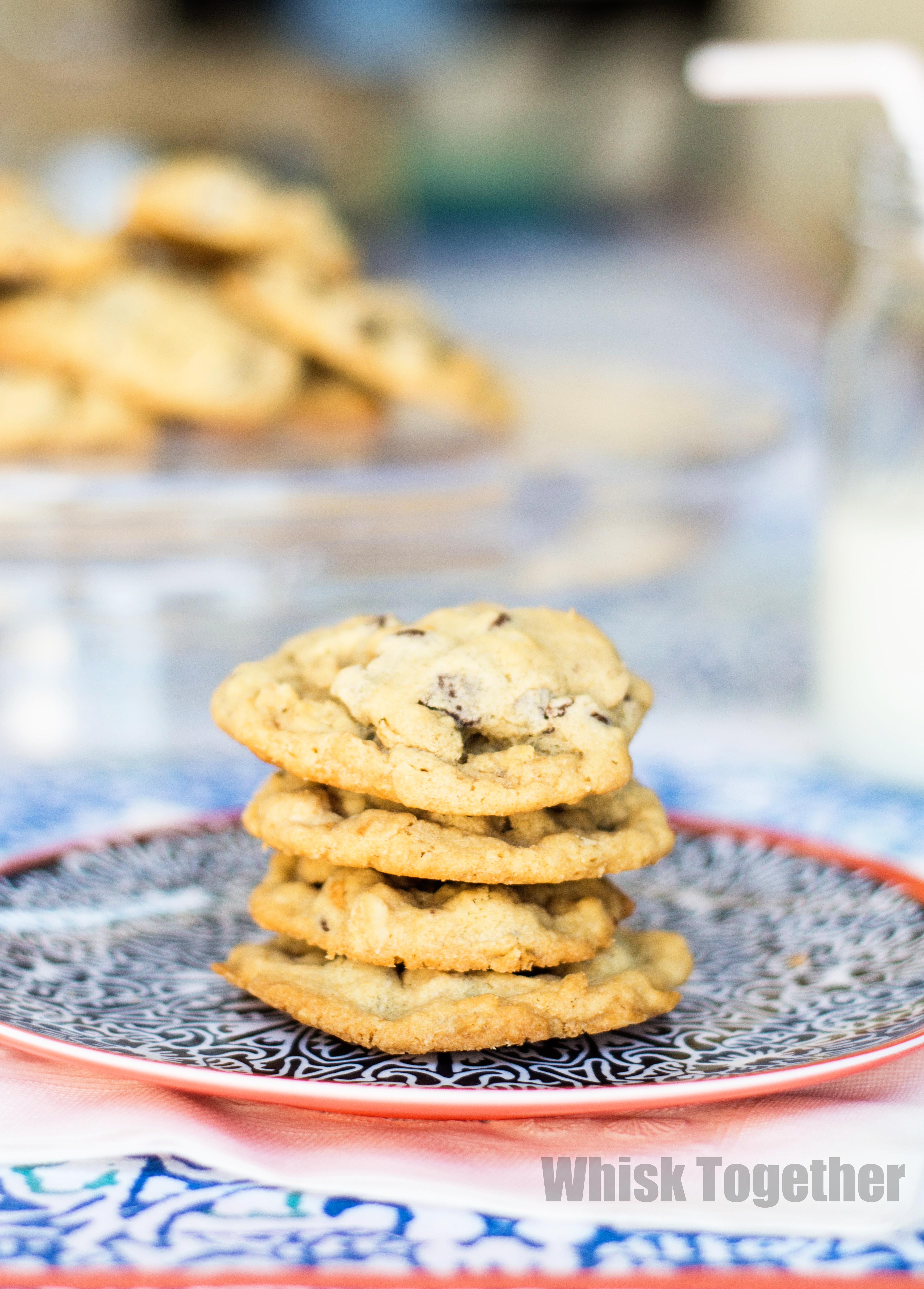 :
Mary Ellen P. Riley / Whisk Together
6 Tb. (3 ounces) unsalted butter, softened
2.4 oz. (1/3 cup) sugar
3.75 oz. (1/2 cup) brown sugar
3 Tb. honey
2 tsp. vanilla extract
¾ tsp. salt
1 Tb. cider vinegar
1 egg
½ tsp. baking soda
½ tsp. baking powder
8 ounces (1 and ½ cups) white whole wheat flour
2 and ⅓ (14 ounces) semisweet chocolate chips
Prep one large rimmed cookie sheet with parchment paper or a silicone mat.
In a great big bowl, add butter, sugars, honey, vanilla and salt. Beat until smooth and creamy.
Add cider vinegar, egg, baking soda and baking powder. Beat until smooth and creamy again.
Add flour and gently stir. Add in chocolate chips and stir until just combined.
Using a small or medium size cookie scoop (depending how large you want your cookies), drop the cookie dough balls onto the rimmed cookie sheet. It will fill up the pan. Lay them in the freezer for 30-60 minutes.
Once frozen on the outside, you can choose to bake them, bake some and save some, or save all of them for later. If saving for later, place them into a ziplock freezer bag. Remove the air as best you can and seal. Store in the freezer.
To bake, preheat the oven to 350 degrees. Place cookies 2" apart on a cookie sheet that has been greased or prepped with parchment or silicone mat. Bake the frozen cookies for 10-12 minutes. The time will vary depending on the cookie size.
The cookies will be done when you see them brown on the bottom and the edges will just barely be brown. Allow to cool 10 minutes and put on a wire rack to cool completely.
Store at room temperature. Or, freeze for up to 2-3 months.
Recipe adapted (very slightly) from King Arthur Flour
Recipe by
Whisk Together
at http://www.whisktogether.com/2016/02/01/chewy-chocolate-chip-cookies-2-0/