Chocolate Cherry Baked Oatmeal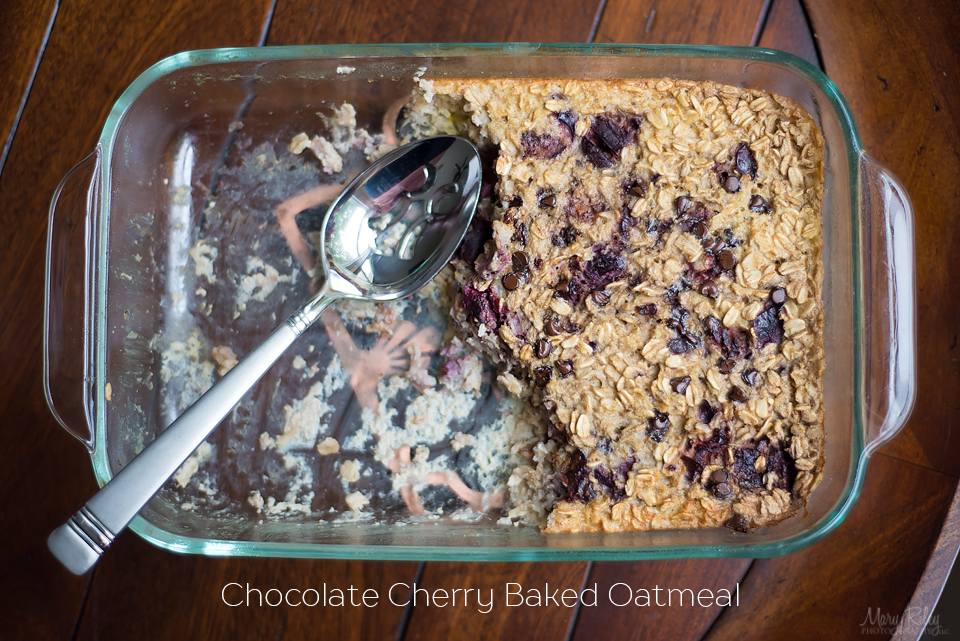 :
Mary Ellen P. Riley / Whisk Together
2 cups old fashioned oats
1 tsp. baking powder
¼ tsp. salt
1 tsp. ground cinnamon (optional)
2 cups milk or almond milk
2 eggs, beaten
2 Tb. applesauce or pumpkin puree or any puree
1 tsp. vanilla extract
1 cup fresh or frozen cherries (no pitts/seeds), chopped or whole
⅛ cup mini chocolate chips
Optional but very tasty: a few teaspoons of brown sugar
Preheat oven to 375 degrees.
Spray a 7x11" baking dish with cooking or baking spray.
Add the dry stuff right into the dish: oats, baking powder, salt and optional cinnamon. Stir the ingredients around with a fork.
Add the wet stuff into the dry: milk, eggs, applesauce, vanilla, and fruit. Stir that around well with a fork.
Sprinkle fruit on top. Sprinkle the chocolate chips on top. Bake for 35 minutes. Shake the pan slightly and the middle should not jiggle. If the middle is jiggly, put it back in the oven for 3-5 minutes.
Cool for 5 minutes. Top with brown sugar and enjoy!
Recipe by
Whisk Together
at http://www.whisktogether.com/2016/05/12/chocolate-cherry-baked-oatmeal/