No Bake Chocolate Cherry Crisp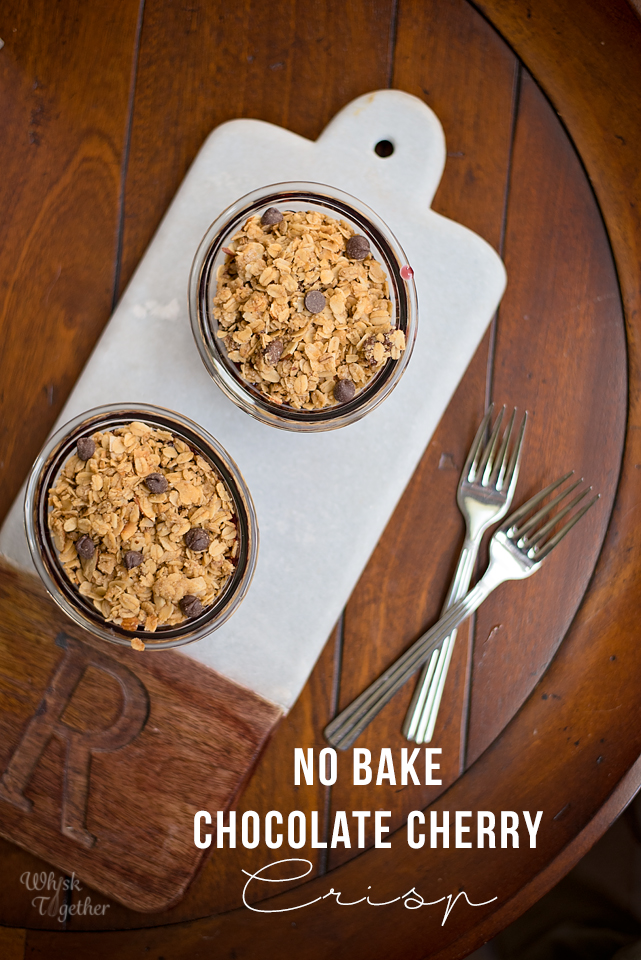 :
Mary Ellen P. Riley / Whisk Together
4 Tb. butter
1 and ½ cups Chocolate Decadence Granola
2 Tb. white whole wheat or all-purpose flour
4 cups dark sweet cherries, fresh or frozen
2 cups sugar
¼ cup cornstarch
½ tsp. almond extract
1 tsp. vanilla extract
Toppings (optional but tasty): vanilla ice cream, whipped cream
In a large pot, add the butter and melt over medium heat. Once melted, turn the heat down to medium-low and add the granola and flour. Stir often to toast and coat the granola.
Pour the granola from the pot into a bowl and set aside.
Add cherries to the same pot you used. Cook over medium heat until bursting. My cherries were pretty large and I cut them in half with my spoon while stirring.
Once bursting. add the sugar and cornstarch. Bring to a boil and stir constantly for two minutes while the mixture boils. Remove from heat.
Add the extracts and stir to combine. Allow to cool slightly.
Now, you can pour the cherry pie mixture into 4 individual dishes or a 8x8 or 9x9 pan. Pour the granola topping on top of the mixture. Top with ice cream and eat!
Recipe by
Whisk Together
at http://www.whisktogether.com/2016/07/29/no-bake-chocolate-cherry-crisp/