Chocolate Chip Zucchini Cookies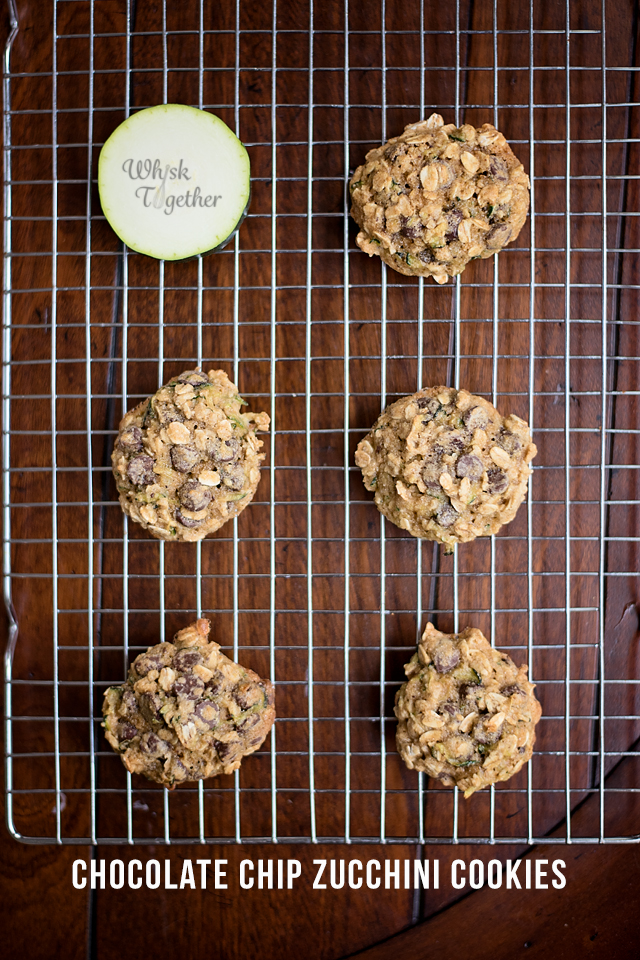 :
Mary Ellen P. Riley / Whisk Together
Serves:
30 medium size cookies
¼ cup butter (melted) or vegetable oil
1 cup minus 2 Tb. (6.5 ounces) brown sugar
½ tsp. baking powder
¼ tsp. baking soda
¾ tsp. salt
2 tsp. vanilla extract
1 egg
1 cup shredded zucchini
2 cups (12 ounces) chocolate chips (we used semi sweet)
1 cup (4.25 ounces) white whole wheat flour
1 and ½ cups (4.5 ounces) quick oats or old fashioned oats
In a great big bowl: mix the melted butter, brown sugar, baking powder, baking soda, salt, vanilla and egg with a fork.
Add the zucchini and mix well.
Add the chocolate chips, flour and oats. Mix until just combined.
For nice rounded cookies, take a piece of parchment or silicone mat and place it on a rimmed cookie sheet. Using a small or medium size cookie scoop, scoop the cookie dough onto the sheet and freeze for 1-2 hours or more. You do not absolutely need to freeze them. They will bake, but they will spread and I like my cookies not to be flat.
Bag any cookie dough balls you want for later.
Preheat oven to 350 degrees and bake the cookies for 14-16 minutes. They will take a little longer from frozen. The bottoms will be golden brown and the tops will not be gooey but just set. I wait for the tops to stop looking gooey.
Then remove from the oven and place them on a cooling rack. I pull the parchment or silicone mat off the cookie sheet and onto the cooling rack to stop the cooking process.
Cool slightly and eat! Store in a airtight container up to 1 week.
Recipe adapted slightly from King Arthur Flour

Weigh the ingredients for accurate measurements.
Recipe by
Whisk Together
at http://www.whisktogether.com/2016/08/03/chocolate-chip-zucchini-cookies/