Whole Wheat Chocolate Chip Zucchini Bread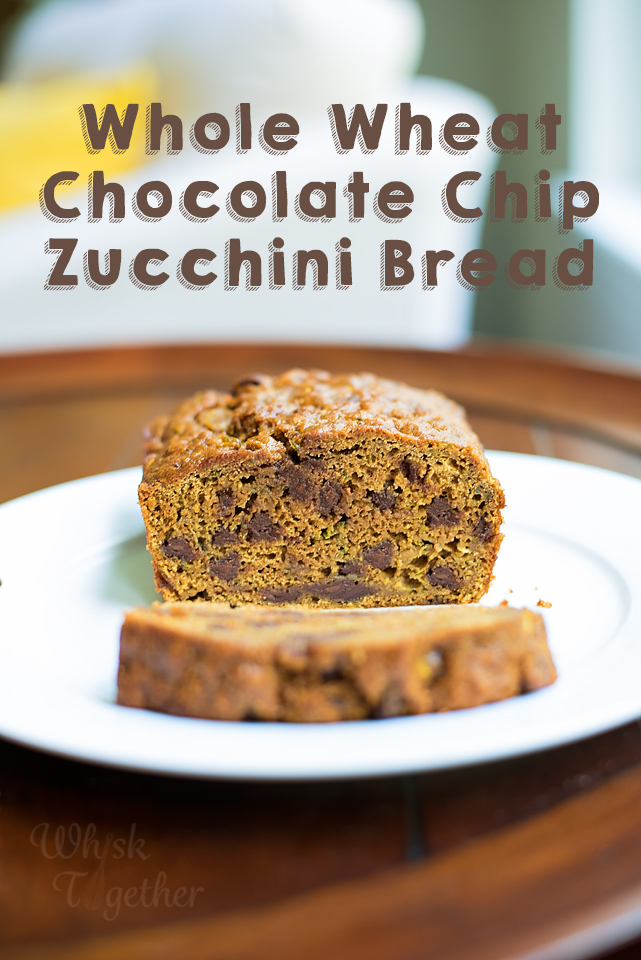 :
Mary Ellen P. Riley / Whisk Together
2 eggs (large or 3 small/medium)
⅓ cup molasses (or honey if you don't like molasses)
½ cup vegetable oil or applesauce
⅓ cup (2.5 oz) brown sugar
1 tsp. vanilla
2 cups (8.5 oz) white whole wheat or whole wheat flour
1 tsp. salt
½ tsp. baking soda
½ tsp. baking powder
2 cups shredded and unpeeled zucchini (choose a medium size one)
1 cup (6 oz) chocolate chips
Preheat oven to 350 degrees. (Or convection oven to 325 degrees)
Grease with baking spray, butter or cooking spray a 9x5" loaf pan.
In a great big bowl, mix the wet stuff: eggs, molasses/honey, oil/applesauce, brown sugar and vanilla. Stir or whisk together until there are no lumps.
To the great big bowl with the wet mixture, add in the dry stuff: flour, baking soda, and baking powder. Mix well. Since it is whole wheat flour, we don't have to worry about gluten forming!
Add in the zucchini and chocolate chips. Stir with a large spoon or spatula.
Put the quick bread mixture into the loaf pan. Bake 50-60 minutes. (It may be done in 45 minutes with a convection oven).
Test the center of the bread with a toothpick and you may get some melted chocolate, but there shouldn't be any bread on it.
Cool on a cooling rack for 10 minutes. Turn the bread out of the pan and allow the bread to cool directly on the cooling rack.
Recipe from King Arthur Flour

Weigh the ingredients for the best accuracy!!! Or spoon the flour into the measuring cup. This is how KAF develops their recipes and provides the best match.
Recipe by
Whisk Together
at http://www.whisktogether.com/2016/08/08/whole-wheat-chocolate-chip-zucchini-bread/