Oh Yeah - Fried Chicken ... Don't Be Scared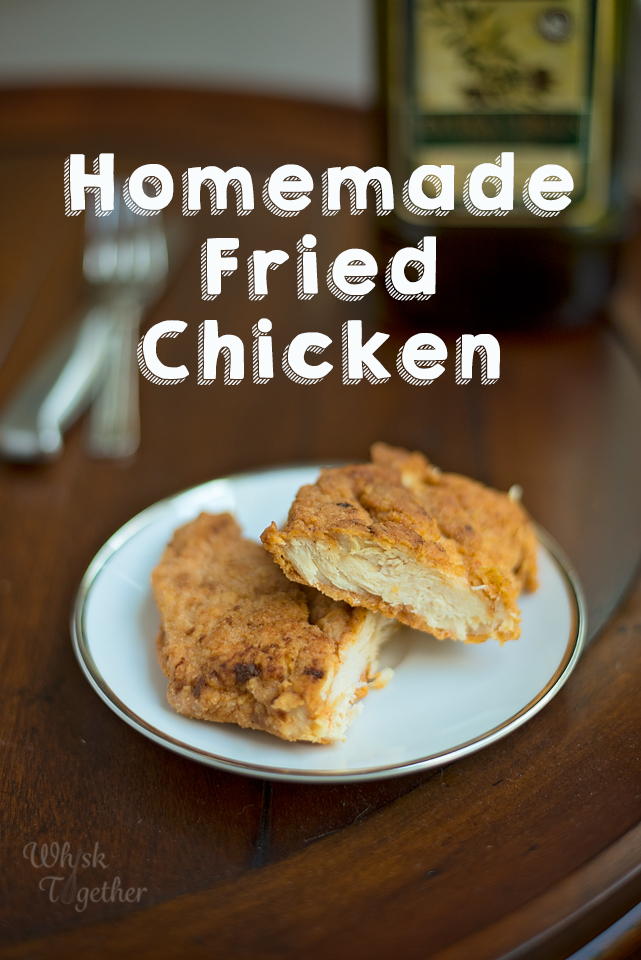 :
Mary Ellen P. Riley / Whisk Together
1 cup whole wheat or AP flour
1 tablespoon kosher salt
1 tablespoon Hungarian paprika or smoked paprika
2 teaspoons garlic powder
1 teaspoon cayenne powder (omit if you don't like spicy!!)
3 eggs
½ cup olive oil (extra virgin if you have it)
about 3 pounds chicken breast (4 large chicken breast)
Mix together in a shallow bowl: flour, salt, paprika, garlic powder and cayenne. Add some black pepper if that floats your boat.
In another shallow dish, whisk together the eggs.
Put a large Dutch oven on the stove or 12" cast iron skillet and fill ½" high with olive oil. Heat on medium heat.
If your chicken breasts are thick - like 1" or more at the large end, take a knife and slice them in half horizontal to create two thinner chicken breast. You want them about ½" thick.
Now have your assembly line going: first chicken, then flour, then egg mixture, then plate.
Dredge chicken in the flour, then egg, then back in the flour mixture again. Set on the plate. Repeat until all the chicken are ready to go.
Using tongs, add the chicken breast into the oil one layer at a time. Mine could hold 2-3 pieces at once. Cook 5 minutes. Flip. Cook another 5 minutes.
Set the chicken down on a wire rack over a cookie sheet and/or paper towels. Repeat with all the chicken. If you are worried about them getting too cold, then place into an oven at 170 degrees to keep warm.
Serve warm with your favorite fixings. Mine are mashed potatoes, coleslaw and green beans.
If the chicken is not cooked through the middle, place in an oven at 350 degrees for 5 minutes or so.
Recipe by
Whisk Together
at http://www.whisktogether.com/2016/08/20/oh-yeah-fried-chicken-dont-be-scared/