Herb Crusted Pork Tenderloin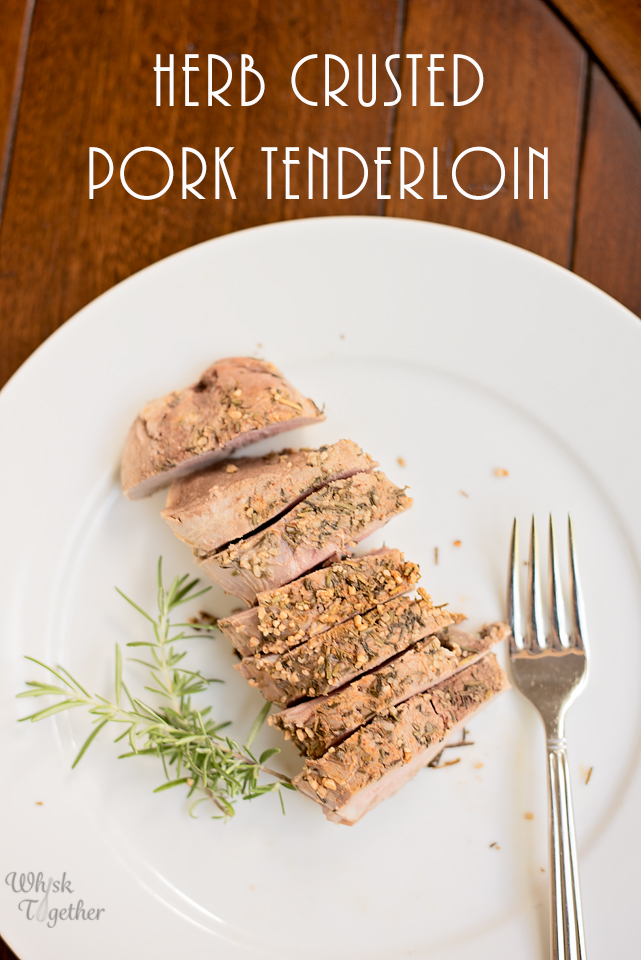 :
Mary Ellen P. Riley / Whisk Together
1 Tb. olive oil
2 - 1 pound pork tenderloin, trimmed (silver skin removed)
1 tsp. kosher salt
4 cloves of garlic, minced
1 tsp. dried thyme
1 tsp. dried basil
1 tsp. dried rosemary
1 lemon zested, optional
Add olive oil to a 12" cast iron skillet and preheat the skillet on medium high heat. Preheat the oven to 400 degrees.
While they heat up, .combine the rest of the ingredients into a small bowl: garlic, thyme, basil, rosemary and a little zest of a lemon if you like. Rub these onto the pork.
Cut the pork into medallions if you like. Or I usually cut mine once in half to ensure faster cooking.
Once the pork is full of herbs, put into the skillet. Brown on one side about 4-5 minutes. Flip. Brown on all sides and the last side, don't flip. Just put the skillet into the oven
The size of your pork tenderloin will greatly determine cooking time. I start at 20 minutes. I also use a probe thermometer and set it for 145 degrees. Once the internal temperature hits 145, pull the skillet out of the oven and allow to rest 5 minutes before serving.
You could also make this in the pressure cooker for 14 minutes on high.
You could also make this in the slow cooker for 4 hours on low.
Recipe by
Whisk Together
at http://www.whisktogether.com/2016/08/29/herb-crusted-pork-tenderloin/