White Chicken Chili (and Instant Pot Option)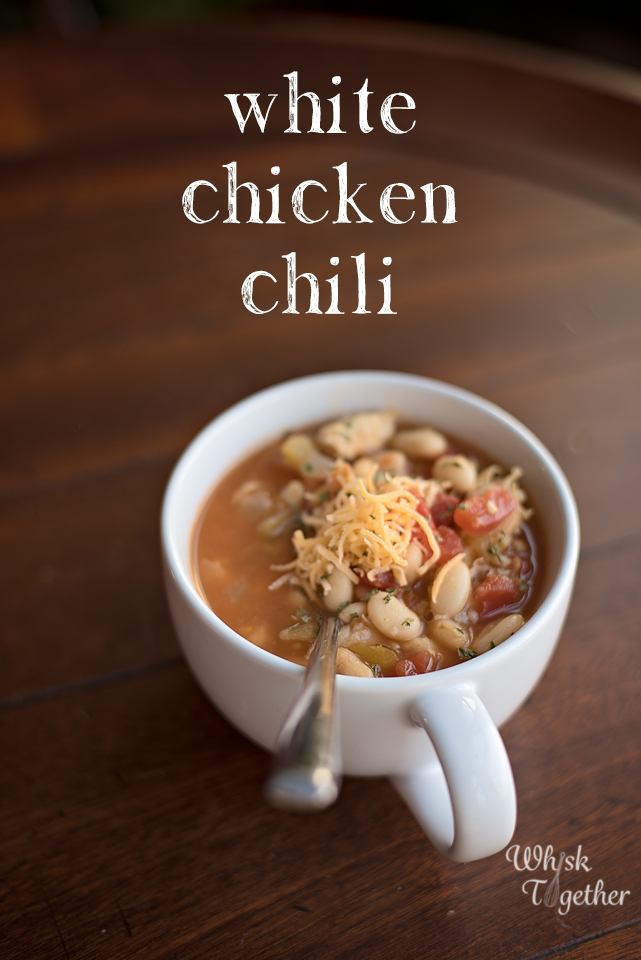 :
Mary Ellen P. Riley / Whisk Together
1 tsp. olive oil
3 and ½ cups diced chicken breasts or tenderloin (with tendon removed)
1 onion, diced
3 cloves of garlic, minced
1 Tb. ground cumin
¼ tsp. ground cayenne pepper
1 tsp paprika or smoked paprika
4 cups chicken broth (reduced sodium preferred)
2 cans (3 cups) Great Northern Beans, rinsed and drained
4 ounces canned green chiles, diced
14 oz. can of diced tomatoes
salt and pepper
For regular pot: Heat olive oil in a Dutch oven over medium heat. Once hot, add the diced chicken and onion. Cook until no longer pink - about 8 minutes. Add garlic with the spices and cook 30 seconds.
Once the garlic and spices are fragrant, add the broth, beans, chiles and tomatoes. Bring to a boil and simmer 10-15 minutes. Add salt and pepper to taste
For Instant Pot: Turn on the Instant Pot to "Saute" on Normal/Medium. Add oil and once hot add the chicken and onion. Cook until no longer pink - about 7 minutes. Add the garlic and spices and cook those another 30 seconds. Turn Instant Pot off.
Add the rest of the ingredients. Turn the Instant Pot back on to Manual mode and set for 10 minutes. Or press "Chili" and reduce the cooking time to 10 minutes. Make sure the vent is sealed of course!
Release the pressure and your chili is finished! If you want it thicker, put the Instant Pot on saute with the lid off to reduce the chili.
Recipe by
Whisk Together
at http://www.whisktogether.com/2016/12/31/white-chicken-chili-and-instant-pot-option/