Chicken Pot Pie Soup and New Job!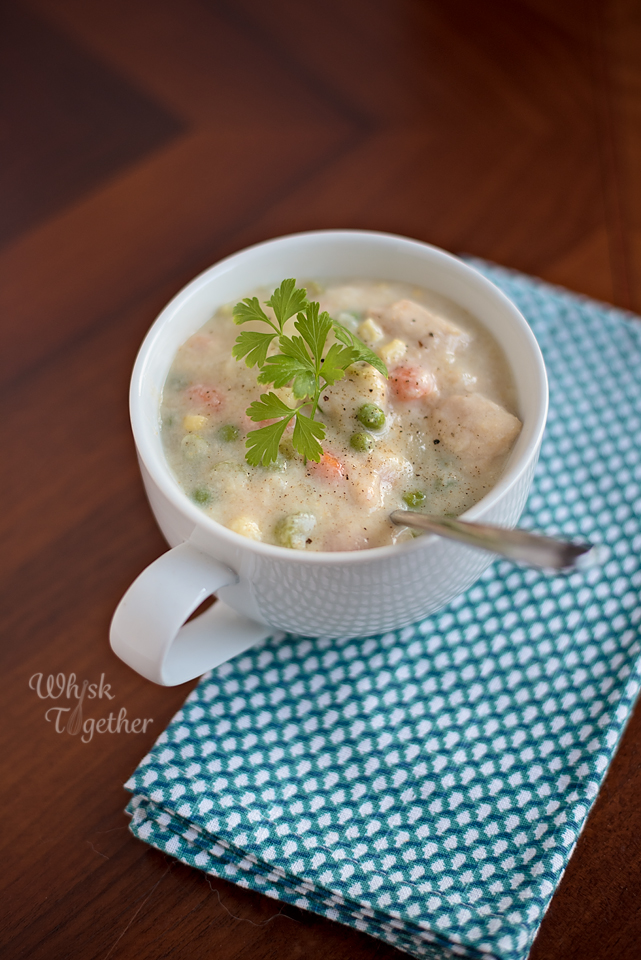 :
Mary Ellen P. Riley / Whisk Together
1 tsp. olive oil
1 celery stalk, chopped
½ medium onion, chopped
2 cups water, divided
4 cups milk (1%, skim or 2% work fine)
2 teaspoons better than bullion or chicken bullion (or use 2 cups chicken stock instead of water)
¼ tsp. ground pepper
¼ tsp dried thyme
10 oz. frozen mixed vegetables (or chopped carrots, frozen corn, peas and green beans)
¼ cup whole wheat flour, AP flour or white whole wheat flour
1 pound chicken breast, cooked and cut into ½"
kosher or regular salt
In a Dutch oven or large pot, add olive oil, celery and onion. Saute over medium to medium high for 2-3 minutes.
Add 1 and ½ cups water (or chicken broth) and milk. Bring this to a boil. Add bullion, pepper, thyme and frozen vegetables. Turn the heat down to medium low. Cover and simmer cook about 15-20 minutes or vegetables are cooked.
In a measuring cup, mix the remaining ½ cup water (or chicken broth) with flour. Whisk together.
Add flour mixture with the chicken into the pot. Heat through. Salt to taste.
Serve while hot. Crusty bread or beer bread is great with this as well.
Recipe adapted from Skinnytaste
Recipe by
Whisk Together
at http://www.whisktogether.com/2017/02/04/chicken-pot-pie-soup-and-new-job/