Tie-Dye Cupcakes with 7 Minute Frosting & Book Review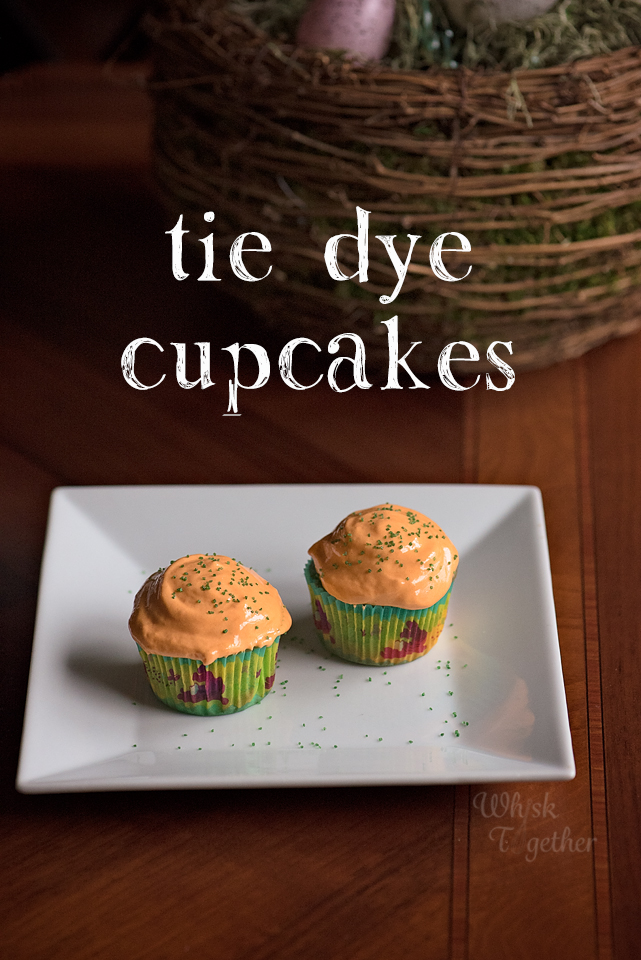 :
Mary Ellen P. Riley / Whisk Together
1 cup (7 oz.) sugar
1 and ⅔ cup (7 oz.) AP flour
1 and ¼ tsp. baking powder
½ tsp. salt
6 Tb. butter, room temperature
⅔ cup milk, room temperature
¼ tsp. Fiori di Sicilia extract, ½ tsp. lemon extract, or ½ tsp. orange extract*
2 large eggs, room temperature
food coloring liquid or gels (at least 3 colors)
Frosting:
2 egg whites
1 cup sugar
⅓ cup water
¼ tsp. cream of tartar
⅛ tsp salt
½ tsp. Fiori di Sicilia, orange or lemon extract or 1 tsp. vanilla extract
Preheat oven to 350 degrees. Line the cupcake pan with 12 liners.
In a mixing bowl, mix the dry stuff: sugar, flour baking powder, and salt.
Beat in the butter by adding it slowly and mix until it forms crumbs.
Add the wet ingredients: milk and extract. Mix 30 seconds on low. Mix 30 seconds on medium.
Add eggs 1 at a time. Mix on medium speed until the batter is smooth.
Divide batter into three bowls and mix in food coloring.
Divide batter evenly among the cupcakes. Swirl gently with a toothpick. Bake for 20 minutes or until a toothpick comes out clean. Cool for 10 minutes and then remove from the pan onto a cooling rack. Cool completely before frosting them.
For the Frosting:
In your mixing bowl again, beat the egg whites until you have foam.
In a saucepan on the stove, mix the sugar, water and cream of tartar. Cook this on medium-high heat until the mixture is boiling. Continue to stir until the sugar is completely dissolved - this may take a few minutes.
Once the sugar is dissolved, turn the burner off. Turn the mixer on and get the eggs fluffy and foaming once again. While the mixer runs on medium-low, slowly pour the sugar water down the side of the mixer in one steady stream. Beat about 1 minutes and add vanilla. Beat another 4-5 minutes or the frosting forms stiff peaks.
Cupcake Recipe adapted from King Arthur Flour
Recipe by
Whisk Together
at http://www.whisktogether.com/2017/03/21/tiedye-cupcakes-with-7-minute-frosting-book-review/