Simply Homemade Ham and Bean Soup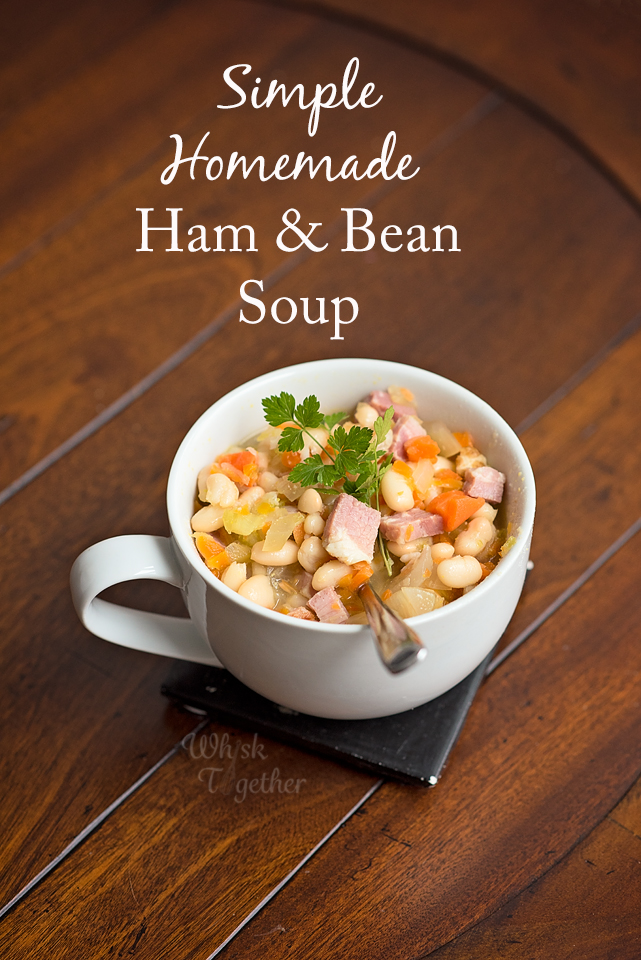 :
Mary Ellen P. Riley / Whisk Together
1 and ⅓ cups dried Northern Beans (soaked overnight) or 2 cans (15oz.) or 4 cups cooked
water if using dried beans
1 teaspoon olive oil
1 cups chopped carrots
1 cup chopped celery (or ½ cup; I like a lot of celery)
1 large onion, diced small
2 teaspoons or cloves of minced garlic
5 cups chicken broth (low sodium is what we use)
1 teaspoon mustard powder
2 cups chopped ham, ½ inch pieces
½ teaspoon white or black ground pepper
First, if you are using dried beans, I soak them overnight. Then, I add them to my Instant pot and cover with water until the water just barely covers all of the beans. Cook on high pressure for 20 minutes and let sit for 10 minutes before releasing the pressure. Drain and use. If you are using canned beans, then simply drain and rinse them. Set aside.
Into a Dutch oven over medium heat, add the olive oil. Once hot, add the chopped carrots, celery and onion. I like to chop these in my mini electric chopper - so must faster!
Once the vegetables are soft and onion starting to become translucent, add the garlic. Cook 30 seconds.
Add the chicken broth. I do not like my soup too soupy. Feel free to adjust the amount of broth to how thick or thin you want your soup.
Add mustard powder, ham, beans and pepper.
Cook about 30 minutes on medium heat or until it has simmered for at least 15 minutes. You can let your soup simmer for much longer if you like. I would advise putting the beans in 15 minutes or so before serving because the beans are already cooked and you don't want to cook them again.
Recipe by
Whisk Together
at http://www.whisktogether.com/2017/04/09/simply-homemade-ham-and-bean-soup/