Pumpkin Ginger Muffins with Orange Glaze & Free Halloween Printable!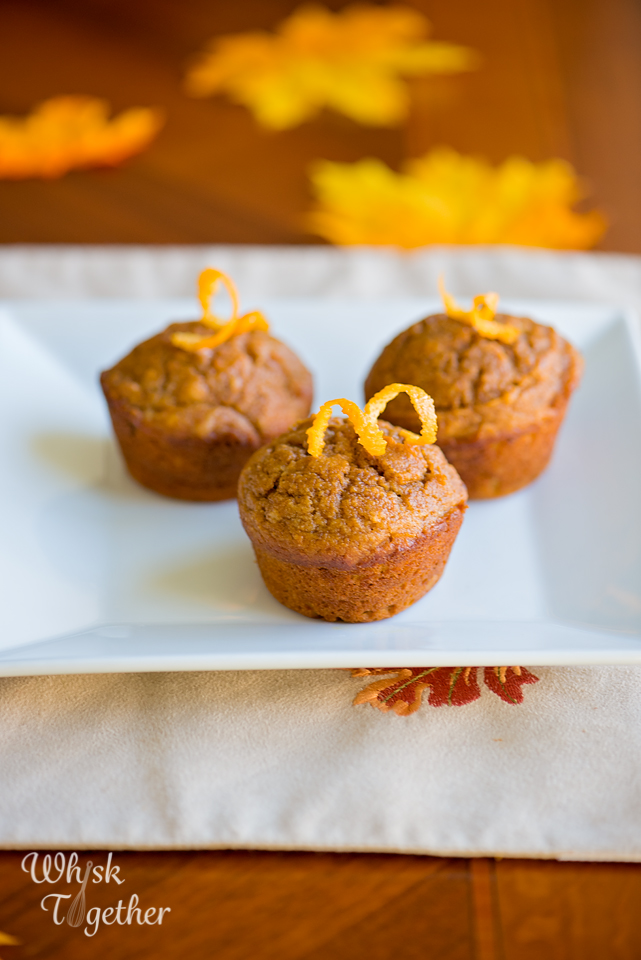 :
Mary Ellen P. Riley / Whisk Together
¾ cup butter or applesauce
1 and ¼ cup (9 and ⅜ ounces) brown sugar
2 and ¾ cups (11 and ½ ounces) AP flour or white whole wheat flour
2 tsp. baking powder
½ tsp. baking sodea
¾ tsp. salt
2 tsp. cinnamon
¼ tsp. allspice
½ tsp. nutmeg
2Tb mini diced ginger, or grated fresh ginger or ½ tsp. ground ginger
½ cup chopped pecans or chocolate chips (optional)
3 eggs
2 Tb. molasses
2 cups (15 oz. can) pumpkin puree
1 and ¼ cup powdered sugar
1 Tb. orange zest
1-2 Tb. milk
Preheat oven to 350 degrees.
Spray or grease 18 muffin cups, or 2 - 8.5"x4.5" loaf pans.
In a great big bowl, stir the brown sugar and butter until mixed thoroughly.
Add the dry stuff: flour, baking powder, baking soda, salt, spices, ginger and optional nuts/chips. Mix until incorporated.
Add the eggs, molasses and pumpkin. Stir until everything is incorporated.
Add the batter to the loaf of muffin tins and fill ¾ full.
Bake muffins 17-20 minutes. Bake loaves 50-55 minutes. I use my toothpick to test the middle of the muffins to see if it comes out with no batter on it.
Once done, cool on a cooling rack for 10 minutes. Then, remove from the pan and allow the bread or muffins to finish cooling on the cooling rack.
To make the icing, mix the powdered sugar, zest and 1 Tb. of milk in a medium sized bowl. Stir with a fork and add the remianing 1 Tb. milk as needed. Remember a little milk goes a long way! Drizzle onto the cooled bread. Ta Da!
This bread freezes well if you wrap it in plastic wrap and them seal in a freezer bag. Or store in an airtight container 3-4 days.
Recipe from King Arthur Flour
Recipe by
Whisk Together
at http://www.whisktogether.com/2018/10/19/pumpkin-ginger-muffins-with-orange-glaze-free-halloween-printable/