Gluten Free Pumpkin Pancakes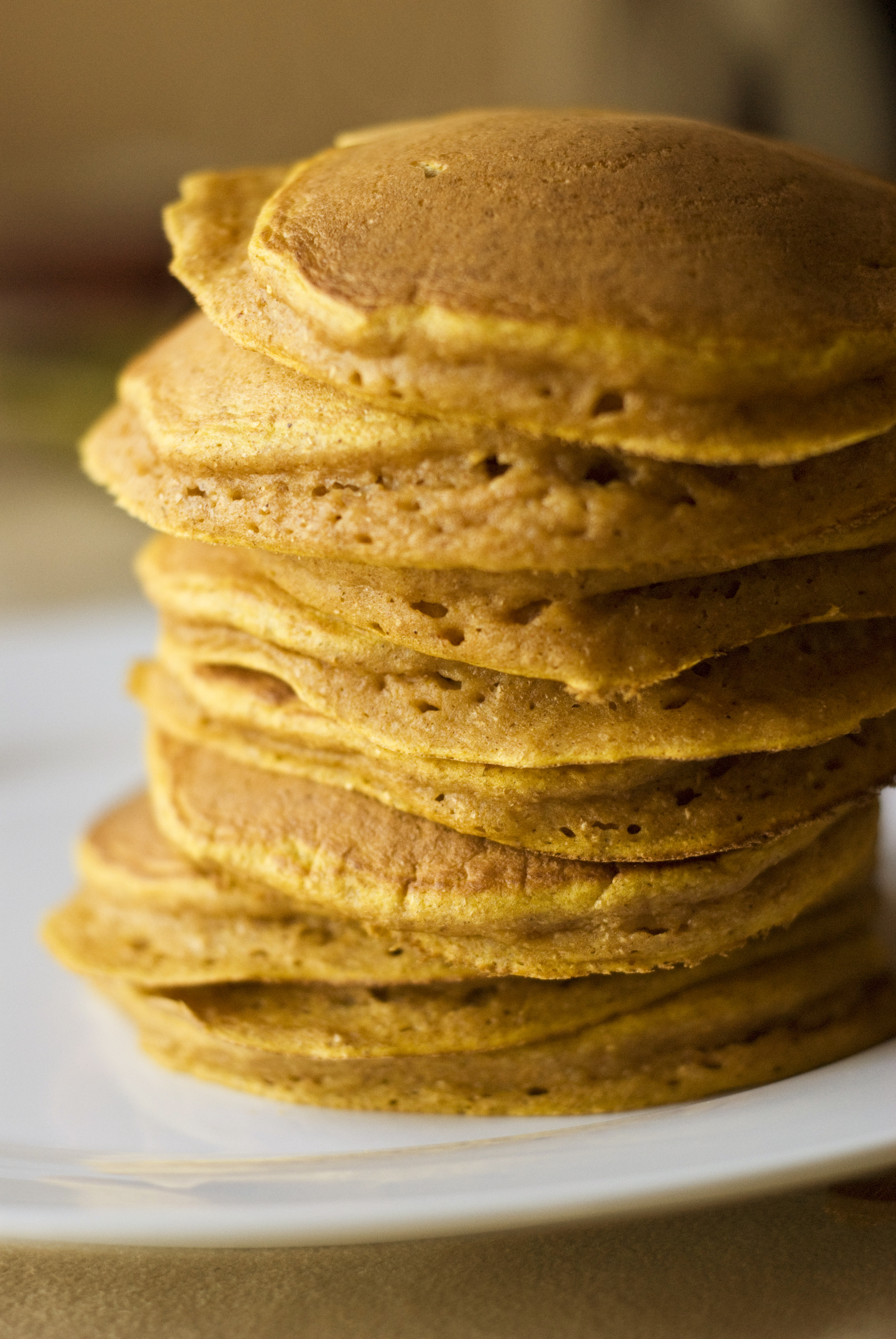 :
Mary Ellen P. Riley / Whisk Together
5.25 ounces old fashioned oats (1.5 cups)
2Tb. sugar (optional) or 1 packet of Stevia
2 tsp. baking powder
1 and ½ teaspoons pumpkin pie spice (1 tsp. cinnamon, ¼ tsp. each nutmeg, ginger, allspice)
½ tsp. salt
1 cup milk
⅓ cup pumpkin puree
2T. melted butter, oil or applesauce
1 egg
Triple Recipe I use:
15.75 ounces old fashioned oats (4 cups)
3 oz. sugar (6 Tb) (optional)
2 Tb. baking powder
4 tsp. pumpkin pie spice
1 and ½ tsp. salt
24 oz. or 3 cups milk
1 can (15 oz) pumpkin puree
3 eggs
(melted butter/oil omitted and replaced with pumpkin)
First we need flour! Use a blender or food processor to grind the oats until they form a fine powder. The oat flour will move freely and look very fine.
In a great big bowl, add the dry stuff: oat flour, baking powder, spice and salt. Whisk Together!
In another bowl, add the wet stuff: milk, pumpkin, melted butter (or omit in triple batch), and egg. Whisk Together!
Add wet stuff to the dry stuff and whisk together until it is evenly incorporated. It may look a little thin at first and that is okay. The oats will thicken the mixture while the skillet heats.
Turn on the skillet to medium or griddle to 350 degrees. Once hot, spray with cooking spray.
Add batter and cook 2-3 minutes. Flip and cook another 2-3 minutes. These oat pancakes cook longer than traditional pancakes. The pancake will be a medium brown and not light orange. Light orange pancakes are not cooked all the way through.
Serve hot with syrup, cinnamon sugar, butter or even whipped cream!
Recipe adapted from King Arthur Flour
Recipe by
Whisk Together
at https://www.whisktogether.com/2018/11/08/gluten-free-pumpkin-pancakes/