Skinny Broccoli Cheddar Soup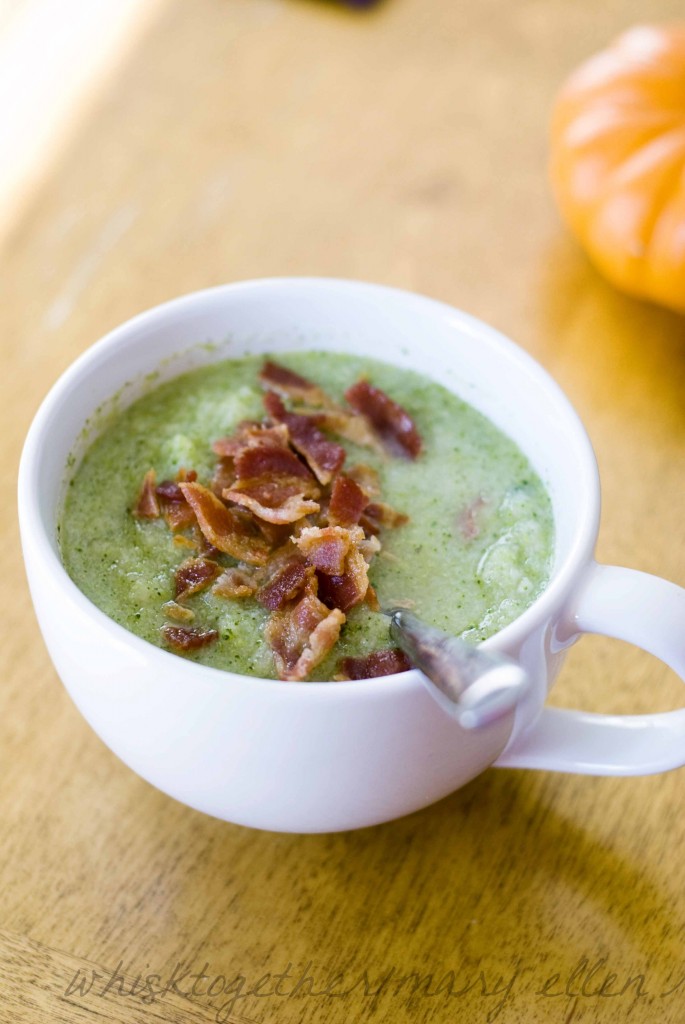 :
Mary Ellen P. Riley / Whisk Together
1Tb. unsalated butter
1 large yellow onion, diced
1 and ½ pounds frozen broccoli florets
2 garlic cloves, minced or pressed
3 cups low sodium chicken broth
1 cup water
¾ cup milk, cream or fat free evaporated milk
4 ounces (1 cup) extra sharp cheddar cheese, shredded
1 Tb. mustard
salt and pepper
Toppings optional: bacon bits, extra cheese
In a large pot or Dutch oven, melt the butter over medium heat. Add the onion and allow to cook 3-4 minutes or until translucent.
In the meantime, microwave your broccoli in a steam bowl or other microwave safe bowl. You may need to do this in two batches for about 4-5 minutes each. Depending on the strength of your microwave. This will thaw the broccoli.
Add garlic to the cooked onion and stir for 30 seconds.
Add the thawed broccoli, broth and water. Simmer. Cover with a lid and cook for 8 minutes or until broccoli is cooked through.
Puree the soup using an immersion blender to get some chunks-some pureed soup. Or use your blender. Add the soup back to the pot and add the milk, cheddar and mustard. Stir until melted and soup is hot again. I like chunks in my soup so I do not blend it all - but that is up to you.
Add salt and pepper to taste.
Add cooked bacon if you would like to add some meat. Serve hot and enjoy!
Recipe adapted from America's Test Kitchen "Comfort Food Makeovers"
Calories:
260
Saturated fat:
6
Recipe by
Whisk Together
at http://www.whisktogether.com/2018/11/12/skinny-broccoli-cheddar-soup/