Gingerbread Crinkle Cookies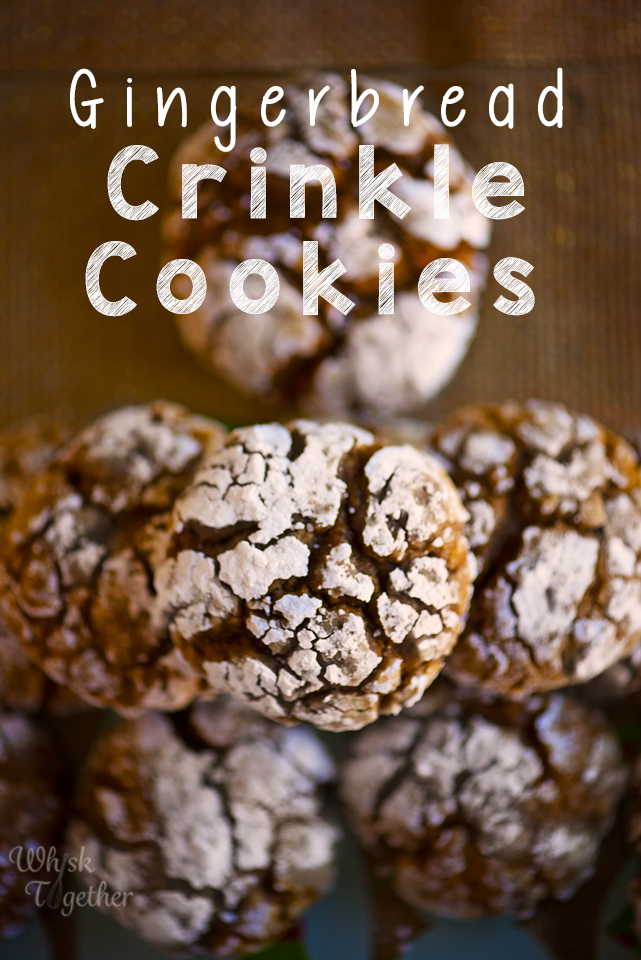 :
Mary Ellen P. Riley / Whisk Together
2 and ¼ cups (280 g) all-purpose flour
2 tsp. baking powder
¼ tsp. baking soda
½ tsp. salt
2 and ½ tsp. ground ginger
2 and ½ tsp. ground cinnamon
½ tsp. ground allspice
½ tsp. ground nutmeg
¼ tsp. ground cloves
8 oz. cream cheese, soft
½ cup (1 stick) unsalted butter, soft
1 cup brown sugar
1 tsp. vanilla extract
1 egg
1 egg yolk
2 Tb. milk
½ cup molasses
1 cup powdered sugar
In a medium bowl, add all of the dry stuff: flour, baking powder, baking soda, salt and spices. Set aside.
In a large mixing bowl, cream together the cream cheese and butter until combined. Add brown sugar and mix medium speed about 30-60 seconds. Add vanilla, egg and egg yolk. Mix until combined.
Add the dry ingredients and mix until just combined. You may leave streaks of flour. While keeping the mixer on low, drizzle in the milk and molasses. Mix on medium for 10 seconds to thoroughly combine.
Cover and chill in the fridge for 2 hours to overnight. The dough MUST be cold.
Preheat oven to 325 degrees. (I like to preheat to 350 and then turn it down to 325 once I add my cookies. This keeps the oven hot and ready for the batch of cookies.) Prep your cookie sheets with parchment paper or a silicone mat.
Put the powdered sugar into a shallow bowl.
Use a 1" cookie scoop to scoop out the cookie dough and place into the dish of powdered sugar. Roll it around and form a ball. Place on cookie sheet or platter.
Once finished, roll all of the cookie dough balls again in powdered sugar. At this point, you could freeze them for baking later. Or put cookies into the oven to bake for 14 minutes. Keep the rest of the cookie dough balls cold in the freezer until ready to bake.
Cool cookies on cooling rack for 10 minutes and use a spatula to move them to a rack to cool.
Cool completely and serve!
*I always encourage weighing the flour. It gives more consistent results. Some of my flours weigh 4.25 ounces per cup and some weigh 5 ounces per cup.
*I use the lower fat neufchatel cheese sometimes for cream cheese and the substitute works well.
Recipe by
Whisk Together
at http://www.whisktogether.com/2018/12/23/gingerbread-crinkle-cookies/