Applebee's White Chocolate & Walnut Blondie Copycat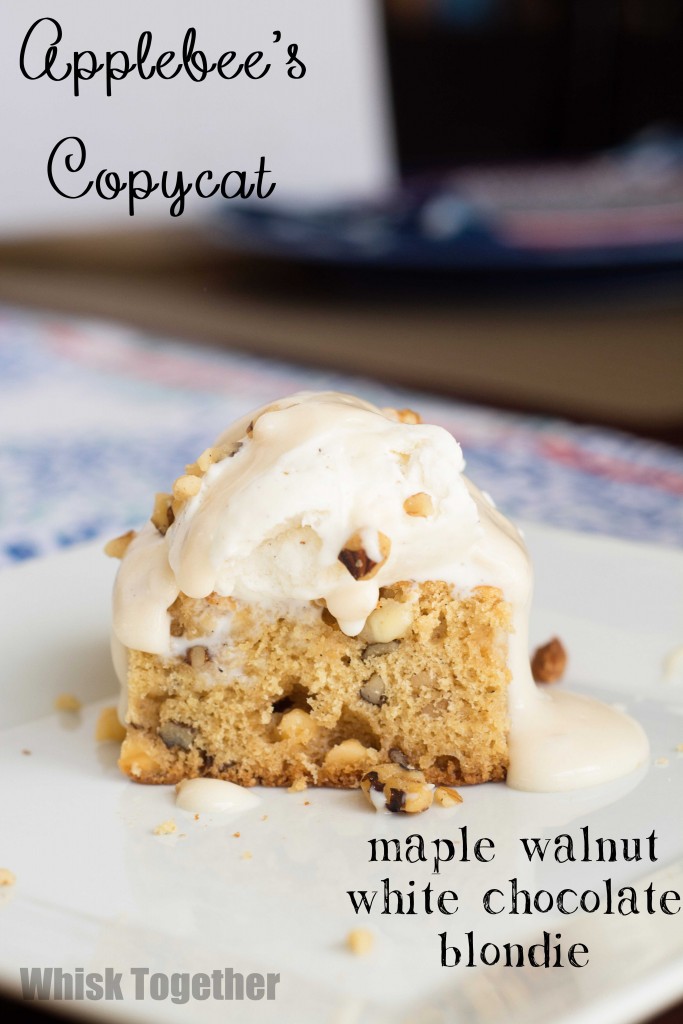 :
Mary Ellen P. Riley / Whisk Together
Bars:
4 egg whites
½ cup butter, softened
½ cup light brown sugar
¼ cup sugar
1 tsp. vanilla
2 and ¼ cups AP flour
1 tsp. baking soda
½ tsp. baking powder
¼ tsp. salt
½ cup milk
8 ounces white chocolate chunks or chips
½ cup chopped walnuts
Sauce:
½ cup butter
¼ cup cream cheese
½ cup powdered sugar
2 Tb. maple syrup
¼ tsp. salt
vanilla ice cream
additional chopped walnuts
For the blondies:
Preheat oven to 325 degrees. Grease a 9x13 pan with baking spray or shortening.
In a large mixing bowl, whip the egg whites with mixer and/or whip attachment. Stiff peaks should form after 3-4 minutes.
Mix in butter, brown sugar, sugar and vanilla. The batter might look a little chunky, but beat until smooth.
In medium size bowl, sift the dry ingredients: flour, baking soda, baking powder and salt.
Slowly, add the dry ingredients to the wet ingredients and mix until combined.
Add milk, white chocolate and walnuts. Stir until they are incorporated. Pour the batter into the pan and bake 40 minutes. The blondies will turn golden brown and a toothpick in the center will come out clean. Once cooled, then you can slice the bars
For the sauce: mix everything together in a mixing bowl. Beat until combined. Use immediately or store in the fridge until the blondies are ready.
To serve: Heat the blondies and sauce in the microwave until warm. Cut a square of blondies if not already cut and plate it. Top with a scoop of vanilla ice cream. Spoon sauce on top and sprinkle with walnuts.
Recipe from Todd Wilbur's "Top Secret Recipes 2"
Recipe by
Whisk Together
at http://www.whisktogether.com/2015/03/03/applebees-white-chocolate-walnut-blondie-copycat/