Double Chocolate Oat Muffins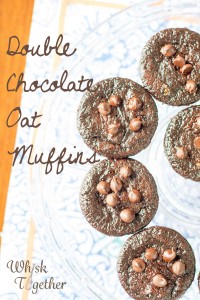 :
Mary Ellen P. Riley / Whisk Together
1 and ¾ cup old fashioned oats
¾ cup unsweetened cocoa (natural or Dutch Processed, I like Rodelle)
½ tsp. cream of tartar or 2 tsp. white or apple cider vinegar
1 tsp. espresso powder (optional but tasty)
1 and ½ tsp. baking powder
1 and ½ tsp. baking soda
¼ tsp. salt
2 eggs
½ cup applesauce
2 tsp. vanilla extract
½ cup plain Greek or regular yogurt
1 cup hot water or hot coffee
1 cup sugar or sugar substitute or ½ cup baking stevia
½ cup mini chocolate chips
Preheat oven to 400 degrees.
Spray a muffin tin with baking spray or line with cupcake liners.
In a food processor or blender, pulverize the oats into a flour-like consistency.
Add the dry ingredients to the processor/blender: cocoa, cream of tartar, baking powder, baking soda and salt. Pulse to combine.
In a great big bowl, mix the wet stuff: 2 eggs, applesauce, vanilla, yogurt, hot water/coffee and sugar.
Add dry stuff to the wet stuff and stir until just combined. Add most or all of the chocolate chips to the batter. Save some for later if you want pretty chocolate chips on top of the muffins.
Divide batter between the 12 muffin wells. I filled mine 80% full.
Put into the oven.
DROP TEMPERATURE!! to 350 degrees on the oven.
Bake for 18-20 minutes or until a toothpick comes out relatively clean. No crumbs, but may have some melted chocolate chips on the toothpick.
Remove muffins from oven.
Place extra reserved chocolate chips on top if desired.
After 10 minutes, remove muffins from the pan and cool on a cooling rack.
Recipe adapted from Dashing Dish
Recipe by
Whisk Together
at http://www.whisktogether.com/2015/04/29/double-chocolate-oat-muffins/