Slow Cooker Chicken Noodle Soup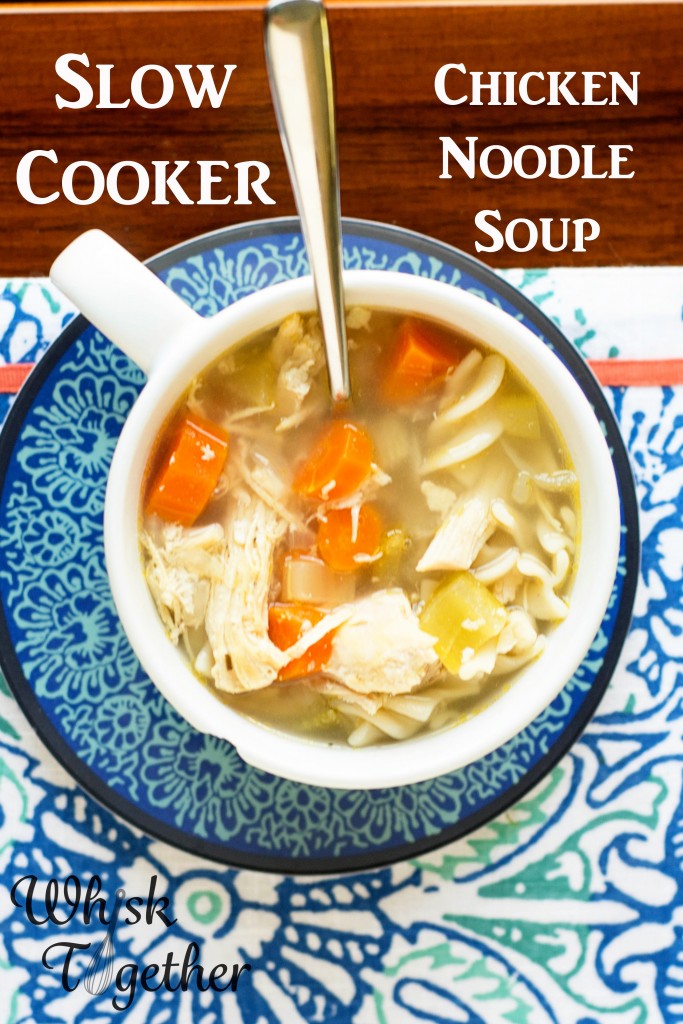 :
Mary Ellen P. Riley / Whisk Together
4-5 carrots, peeled and chopped (1 and ¾ cup)
1 onion, chopped
4 stalks of celery, chopped (1 and ¼ cup)
3 cloves of garlic, minced
6 cups (3 - 15 oz. cans) low sodium chicken broth
1 cup water
1 and ½ lbs. boneless, skinless chicken breast (3-4 chicken breasts)
1 tsp. dried thyme
1 tsp. dried rosemary
2 bay leaves
2 cups uncooked wide egg noodles
¼ cup chopped fresh parsley
1 Tb. lemon juice
salt and pepper to taste
Into a 5-7 quart slow cooker: add carrots, onion, celery and garlic. Spread that on the bottom. Pour in the chicken broth and water. Nestle the chicken into the liquid. Sprinkle thyme and rosemary on top. Cover and cook on low for 3-4 hours. (If you want to use chicken thighs, the cooking time is 4-6 hours on low).
About 30 minutes before serving, bring a large pot of salted water to boil. Boil the noodles per the directions on the package. Drain.
Test chicken to make sure it is no longer pink and temperature is at least 165 degrees. Shred it inside the slow cooker with two forks.
Add noodles to slow cooker. Stir in parsley, lemon juice and salt and pepper to taste. Serve hot with crackers, Parmesan cheese, grilled cheese sandwiches, etc.
Recipe adapted from Cooking Classy
Recipe by
Whisk Together
at http://www.whisktogether.com/2015/05/22/slow-cooker-chicken-noodle-soup/