Granola Blueberry Muffins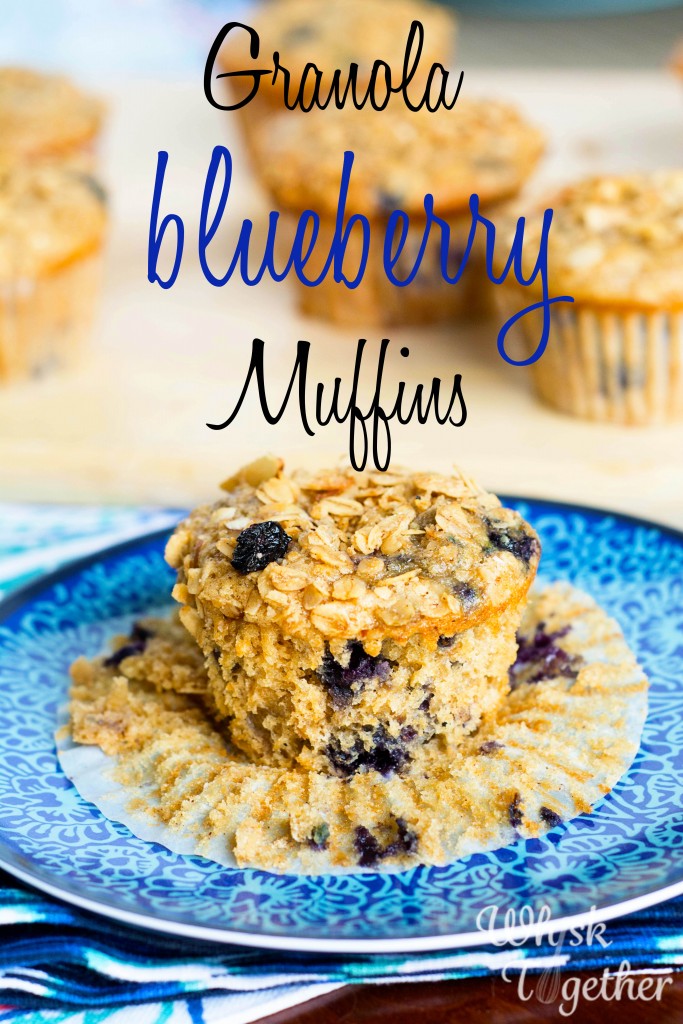 :
Mary Ellen P. Riley / Whisk Together
2 cups (8 ounces) white whole wheat or whole wheat flour
¾ (5.7 oz) cup brown sugar
1 tsp. baking powder
½ tsp. baking soda
½ tsp. salt
1 cup (3.5 oz.) Granola
½ cup dried blueberries
1 and ½ tsp. vanilla extract
⅓ cup coconut oil, melted and cooled to room temperature(or canola oil)
1 and ⅓ cups milk
4 tsp. lemon juice (fresh or bottled)
Topping:
½ cup granola
Preheat oven to 400 degrees.
Line a muffin pan with muffin liners or spray with baking spray.
In a great big bowl, mix the dry ingredients: flour, brown sugar, salt, baking powder, baking soda, cinnamon (optional), granola and dried blueberries.
In a medium bowl, mix the wet ingredients: vanilla, applesauce (or oil), milk and lemon juice.
Add the wet ingredients into the dry ingredients. Fold until just combined. Do NOT overmix.
Divide between the 12 muffin wells. They can be filled all the way to the top.
Sprinkle extra ½ cup granola on top of each muffin. Press gently to adhere to the batter.
Bake for 14-17 minutes. To test for doneness, insert a toothpick into the center and it should not have any batter stuck to it.
Cool on a wire rack. After 10 minutes, remove the muffins from the pan and cool directly on the rack.
If using fresh/frozen blueberries, reduce the liquid by 3 tablespoons.

Please weigh the flour for best results. If the flour cannot be weighed, spoon the flour out of the container into a measuring cup.
Recipe by
Whisk Together
at http://www.whisktogether.com/2015/06/03/golden-girls-granola-muffins/