Chocolate Fudge Granola Bars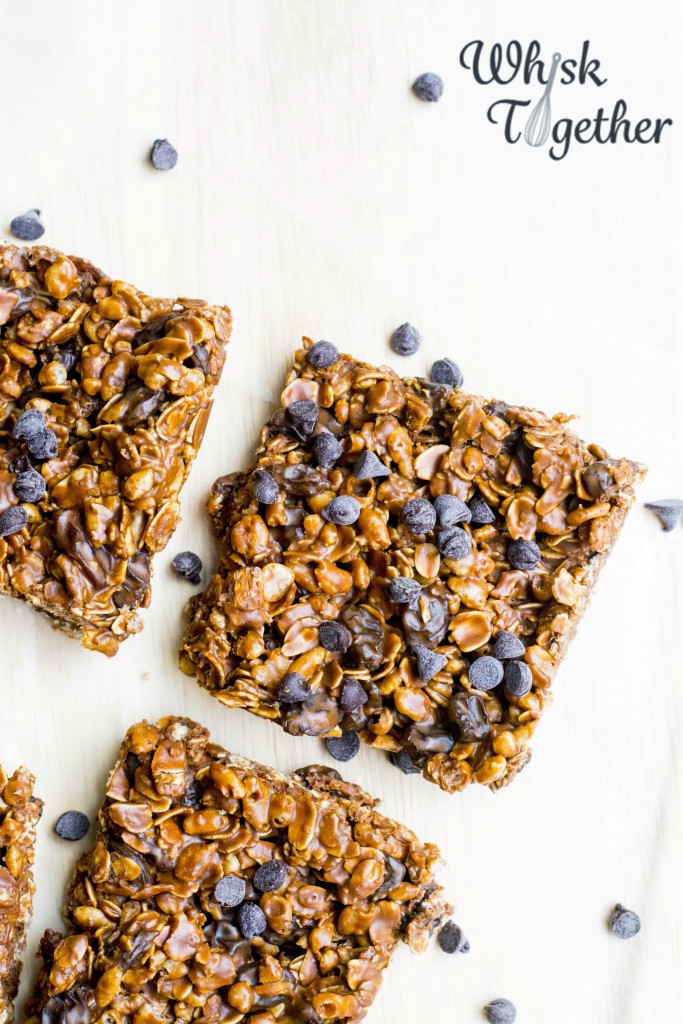 :
Mary Ellen P. Riley / Whisk Together
⅓ cup coconut oil
½ cup (3 ounces) semi-sweet chocolate chips
½ cup creamy peanut butter
1 and ¼ cups old fashioned oats
¾ cup rice crisp cereal (Crisp Rice by Trader Joe's, Kellogg's Rice Krispies)
¾ cup raisins (or craisins, nuts, seeds, dried pineapple, etc.)
1 Tb. mini chocolate chips or marshmallow bits
Lay parchment, non-stick foil or wax paper into a 8x8", 9x9", 7x11" or equivalent size pan. It should hang off the sides for easy removal later.
In a large microwave safe bowl, microwave the coconut oil and chocolate chips in 30 second intervals. Stir each 30 seconds. After 60-90 seconds, the chocolate should be melted or almost melted. Keep stirring and it will all melt together.
Add the peanut butter and stir until smooth. If it will not melt together, put it back in the microwave for 15 seconds.
Add the oats, cereal and raisins (or mix ins). Fold the mixture together with a spatula. Try not to crush the cereal.
Pour the mixture into the pan . Use the back of the spatula to gently press the bars into the pan. Pop in the fridge for 2 hours to firm up. Lift them out of the pan, cut and eat! Keep covered in the fridge for longer term storage.
Recipe adapted from Sally's Baking Addiction
Recipe by
Whisk Together
at http://www.whisktogether.com/2015/07/13/chocolate-fudge-granola-bars/