Mexican Cauliflower "Rice"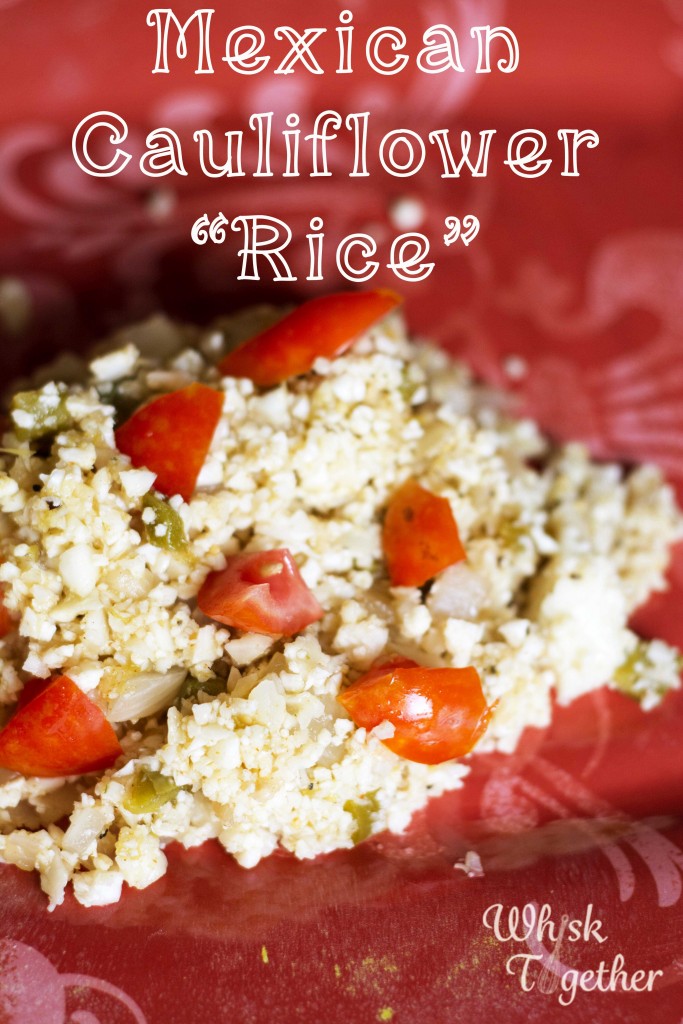 :
Mary Ellen P. Riley / Whisk Together
1 head of cauliflower
1 Tb. olive oil or bacon fat
1 yellow onion, diced
½ green or red bell pepper, diced
2 garlic cloves, minced
1 tsp. ground cumin
¼ tsp. cayenne pepper
½ cup salsa
¼ cup chopped cilantro (optional)
2 Roma tomatoes, chopped
salt and pepper
Cut off the florets from the cauliflower head. Chop into same size chunks. Pulse the cauliflower in the food processor about 15 times - about the size of rice. This will take 2-3 batches.
In a large skillet, heat the oil over medium high heat.
Add onion and pepper. Cook about 5 minutes or onion is translucent.
Add the garlic and spices. Cook thirty seconds.
Add the cauliflower rice and salsa. Put the lid on the skillet. Reduce heat to medium. Cook 7-8 minutes.
Remove from heat and salt and pepper to taste. Add tomatoes and cilantro. Serve warm.
Alternatively, you could mix everything together into a baking dish and bake for 40 minutes at 350 degrees - being sure to stir halfway through.
Recipe by
Whisk Together
at http://www.whisktogether.com/2015/08/13/mexican-cauliflower-rice/