Slow Cooker (or Roasted) Turkey Breast with Gravy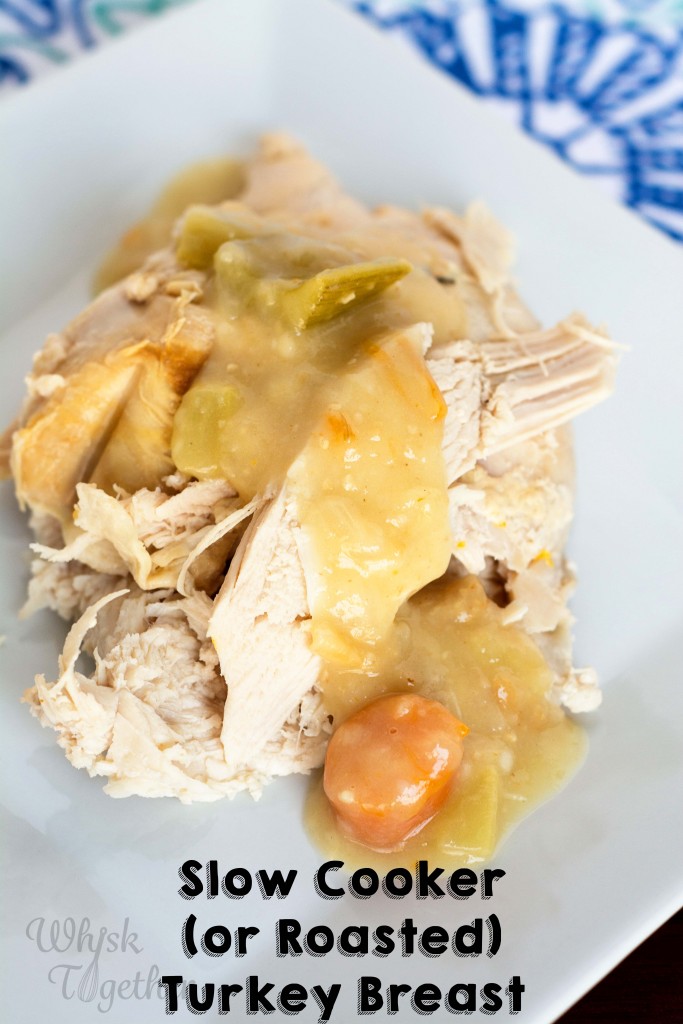 :
Mary Ellen P. Riley / Whisk Together
3 Tb. butter
1 onion, coarse chop
1 carrot, coarse chop
1 rib of celery, coarse chop
6 cloves of garlic, crushed
⅓ cup flour
2 cups chicken broth
1 cup water
½ cup white wine (or water)
2 bay leaves
2 sprigs of thyme (or ½ tsp. dried thyme)
6-7 pound whole bone-in turkey breast (for slow cooker or roasting)
3 garlic cloves, minced
1 Tb fresh rosemary, minced
1 tsp. orange zest
4Tb. softened butter
In a large skillet, add 3 Tb. butter and melt.
Add veggies (onion, carrot, and celery) and cook 8-10 minutes. Add garlic and cook 30 seconds.
Add flour and cook 2 minutes.
Add 1 cup broth. Stir until heated through and not so lumpy. If cooking in slow cooker, add this all to the slow cooker. If not, keep in the skillet and allow to simmer until it reaches the thickness you like.
Add the rest of the broth, water, wine, thyme and bay leaves to the slow cooker as well, or to the skillet if roasting. For roasting, simply cool and store in the fridge to heat up later when ready to serve.
Mix the 3 garlic cloves, rosemary, orange zest and 4 Tb. of soft butter together in a bowl.
Take the orange butter and rub it under the turkey breast skin. Press it in to distribute.
For slow cooker: Add the turkey breast on top of the gravy. It should be skin/breast side up. Cook on low 5-7 hours. Internal temperature should reach 165 degrees. Remove and rest under some foil for 20 minutes.
Meanwhile, take the slow cooker drippings/gravy into a pot or skillet. Skim the fat off the top and simmer for 15 minutes or until thickened. Carve turkey and serve with gravy.
For roasting: Preheat oven to 425 degrees. Prep a roasting pan and V-rack inside. Place the turkey that has been rubbed with butter skin side/breast side up onto the rack. Pour 1 cup water into the roasting pan and pop it all into the oven. Cook for 30 minutes. Turn the oven down to the 325 degrees and cook about 60 minutes. Internal temperature should be 165 degrees. Remove the turkey from the oven. Rest for 20 minutes under a foil tent. While resting, put the gravy back into the original skillet or a pot and heat. Carve turkey and serve with gravy.
Recipe adapted from America's Test Kitchen
Recipe by
Whisk Together
at http://www.whisktogether.com/2015/09/24/slow-cooker-or-roasted-turkey-breast-with-gravy/