KAF Apple Crisp and Whole Apple Butter!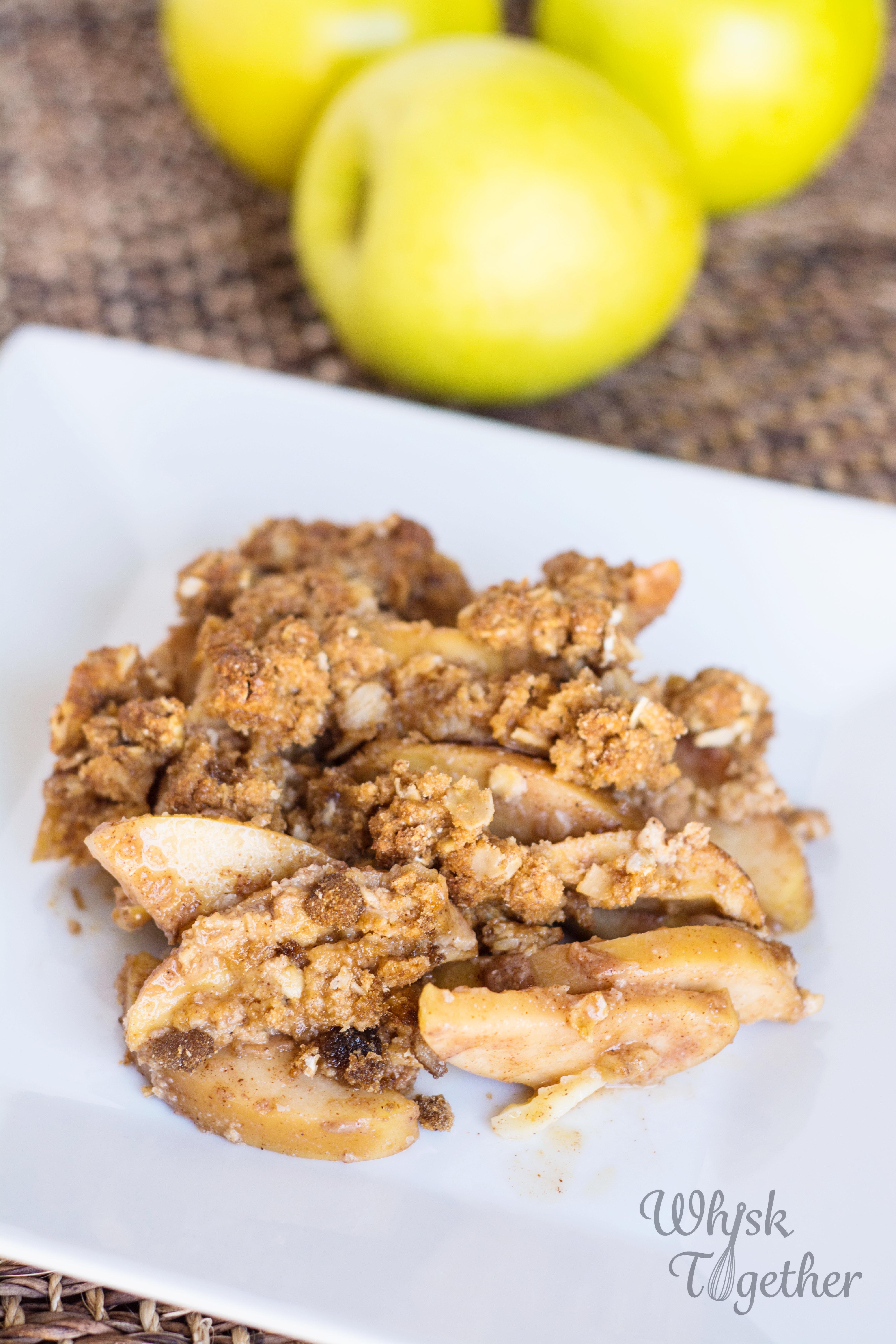 :
Mary Ellen P. Riley / Whisk Together
3 pounds apples, 9 cups; peeled, cored and sliced (I leave my peels on)
¼ cup apple juice or water
¼-3/4 cup brown sugar (more for tart apples, less for sweeter apples)
2 Tb. boiled cider (optional)
1 tsp. cinnamon
¼ tsp. ground nutmeg
¼ tsp. ground ginger
3 Tb. flour
¼ tsp. salt
Topping:
¾ cup all purpose flour or white whole wheat flour
½ cup quick oats or old fashioned oats
¼ tsp. salt
⅔ cup brown sugar
1 tsp. cinnamon
¾ tsp. baking powder
½ cup (8Tb) cold butter, cut into chunks (or 4Tb butter and 4Tb. Greek yogurt)
½ cup chopped pecans or walnuts (optional)
Preheat oven to 350 degrees.
Spray a 9x13 pan with cooking spray.
In a great big bowl, toss the apples with the water, brown sugar, boiled cider (optional), spices, flour and salt. Dump them into the prepared baking dish. Level them out in the pan.
In a medium size bowl, mix the topping flour, oats, salt, brown sugar, cinnamon and baking powder. Cut the butter in with 2 forks or your fingers. The topping will look like large crumbs.
Add the topping evenly over the apples.
Place a cookie sheet under the apple crisp pan just in case it drips/overflows.
Bake for 60 minutes. Cool for at least 20 minutes.
I like Gala apples in this crisp. But feel free to use Fuji, Cortland, Granny Smith or any other apple pie apple.
Recipe from King Arthur Flour
Recipe by
Whisk Together
at http://www.whisktogether.com/2015/10/04/kaf-apple-crisp/