Homemade Chocolate Pudding Pumpkin Patch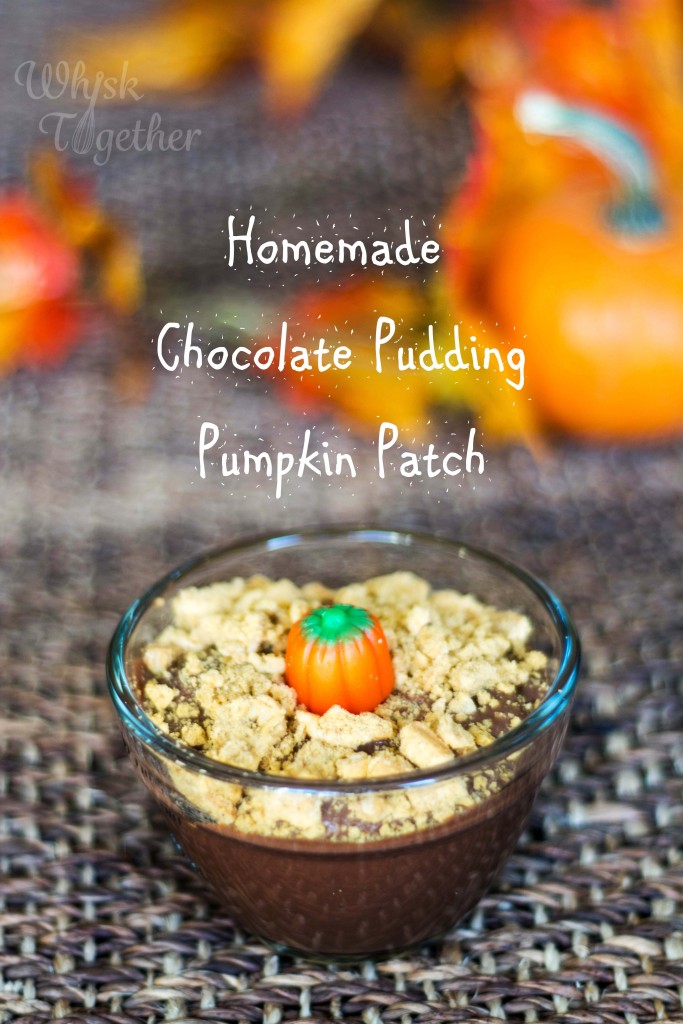 :
Mary Ellen P. Riley / Whisk Together
3 oz. (1 cup) Dutch processed cocoa
2 oz. (1/2 cup) cornstarch
6 oz. (1 and ½ cups) powdered sugar
1.5 oz. (1/2 cup) nonfat dry milk
½ tsp. salt
To make pudding:
1 and ¾ cups pudding mix
2 cups milk
2 cups cream or milk or half and half
1 tsp. vanilla extract
To make a pumpkin patch:
2-4 pumpkin oreo cookies (or use regular oreo cookies), crumbled
pumpkin candy
Have a serving bowl ready with a sieve on top next to the stove.
In a medium or large pot, add the mix, milk and cream. Whisk together!
Turn the stove up to medium heat. Whisk together once in a while.
After a few minutes, really keep an eye on things and wait for it to boil.
Once it boils, kick the heat down to low. Whisk together for FOUR minutes.
Take the pot off the stove and add the vanilla.
Immediately, pour the mixture through a sieve into the serving bowl. Give it a shake and use the spatula to press any remaining pudding through the sieve.
Cover with plastic wrap - being sure to have the wrap on top of the surface.
Store in the fridge for FOUR hours.
Sprinkle the cookie crumbles on top and place the pumpkin candy on just before serving.
Enjoy!
You will have leftover mix for another day. :-)
Both recipes cut in half well. I often make just half a batch of the pudding because a half batch makes 2 cups of pudding - or enough for each of us to have ½ cup serving.
Recipe from Alton Brown.
Recipe by
Whisk Together
at http://www.whisktogether.com/2015/10/27/homemade-chocolate-pudding-pumpkin-patch/