Pumpkin Banana Bread & Book Review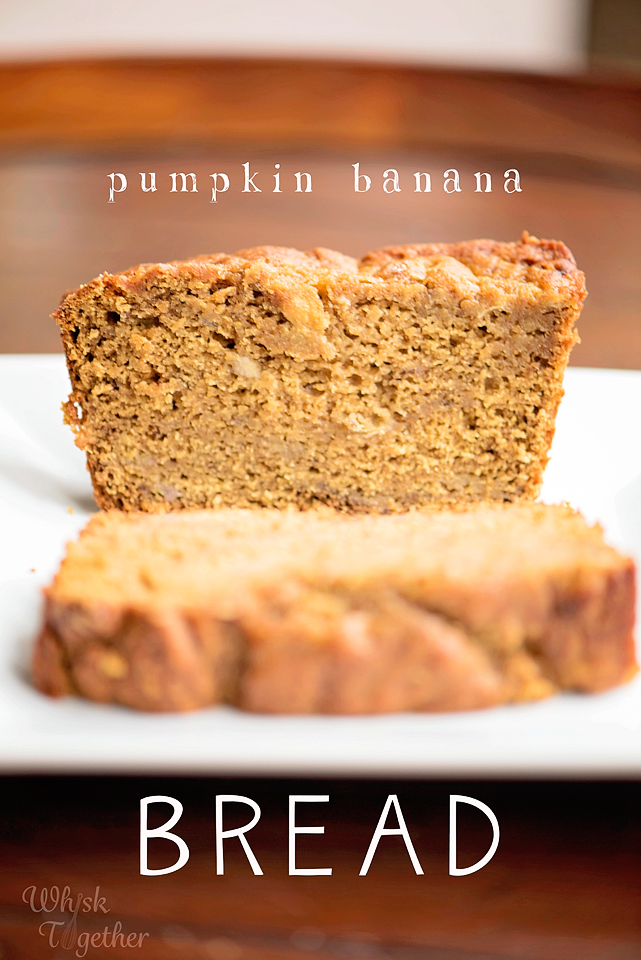 :
Mary Ellen P. Riley / Whisk Together
4 Tb. unsalted butter, melted
½ cup sugar
½ cup brown sugar
1 egg
6 ounces plain or vanilla Greek yogurt
1 Tb. vanilla extract
2 Tb. molasses (optional)
1 cup pumpkin puree
1 cup mashed bananas (2 bananas)
½-1 tsp. ground cinnamon (add ½ tsp. for less flavor and 1 tsp. for more)
½ tsp. pumpkin pie spice (or simply use the 1 tsp. cinnamon above with ¼ tsp. nutmeg and ginger, each)
¼ tsp. ground cloves
½ tsp. salt
1 and ⅔ cups white whole wheat flour or all-purpose flour
1 and ½ tsp. baking soda
Preheat the oven to 350 degrees. Spray a 9x5 pan with baking or cooking spray. I love baking spray myself.
In a great big microwave safe bowl, add the butter to melt if you have not done so.
Add the sugars, egg, yogurt, vanilla, pumpkin and bananas. Mix until smooth with a fork or mixer.
Add the spices. Stir until mixed in.
Add the flour and baking soda on top. With your fork, blend the flour and baking soda together so it is mixed around. Then, use your fork or a spatula to mix the wet and dry ingredients together. Stir until JUST combined. A few streaks of flour is okay.
Pour into the 9x5 pan and bake for 60 minutes. Begin watching it after about 50 minutes.
If the bread becomes too dark on top while baking, loosely cover with foil. I usually check for this around the 30-45 minute mark.
Recipe adapted from Averie Cooks
Recipe by
Whisk Together
at http://www.whisktogether.com/2016/02/13/pumpkin-banana-bread-book-review/