Hamantaschen (or Thumbprint Cookies!)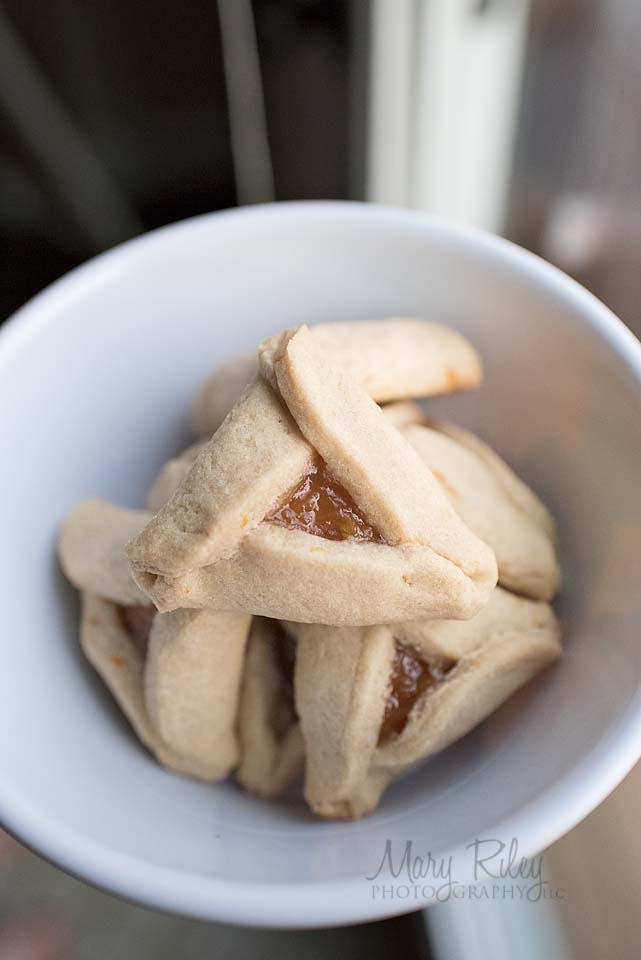 :
Mary Ellen P. Riley / Whisk Together
Serves:
2-3 dozen cookies
¾ cup (1 and ½ sticks or 6 oz.) of unsalted butter, room temperature
⅔ cup sugar
1 egg, room temperature
1 tsp vanilla extract (or ½ tsp. Fiori Di Sicilia and ½ tsp. vanilla)
1 tsp. grated orange zest (not the white pith, just the orange outside)
2 and ¼ cup flour
¼ tsp. salt
2-5 tsp. water
1 cup of filling: fruit preserves, nut filling, caramel apple filling, poppyseed filling, etc.
In a great big mixing bowl, beat your butter and sugar together until light and fluffy - about 1-2 minutes.
Add egg, extracts and zest. Mix well. Scrape down the sides of the bowl.
Stir in the flour and salt. Mix until just barely combined. It will be a little crumbly.
At this point, you can use your mixer or your hands. Add about 2 tsp. of water and mix slowly. The dough should become a ball that is smooth and not sticky. If it is not smooth, just keep adding water 1 teaspoon at a time.
Split the dough in half. Shape into a flat disk. Wrap in plastic wrap. Keep in the fridge covered for 2+ hours or chill faster in the freezer for 30 minutes.
Preheat oven to 350 degrees. Prep a couple of cookie sheets with parchment paper, cooking spray or silicone mats.
Roll out one disk of dough to about ⅛" to ¼". ⅛" is hard to work with if you are not used to it - but if you are go for it and you will get thinner and delicate cookies. Follow the photo steps in the blog post: Cut out a 3" circle. Dollop 1 tsp. of filling in the middle. Fold over ⅓ of the circle, but you can still see the filling. Fold over the other ⅓. Finally tuck under the final one third.
If you wish, you can store in the freezer on cookie sheets until the oven is up to temperature and all the cookies are ready to go.
Bake the cookies for 20 minutes or starting to get golden brown on the edges and/or bottom.
Cool and eat!
Store at room temperature in a sealed container. Since there are preserves, I will store in the fridge if left out more than one day, but that is my personal preference.
Recipe is from http://toriavey.com/
Recipe by
Whisk Together
at http://www.whisktogether.com/2016/04/07/hamantaschen-or-thumbprint-cookies/