Snowflake Cinnamon Wreath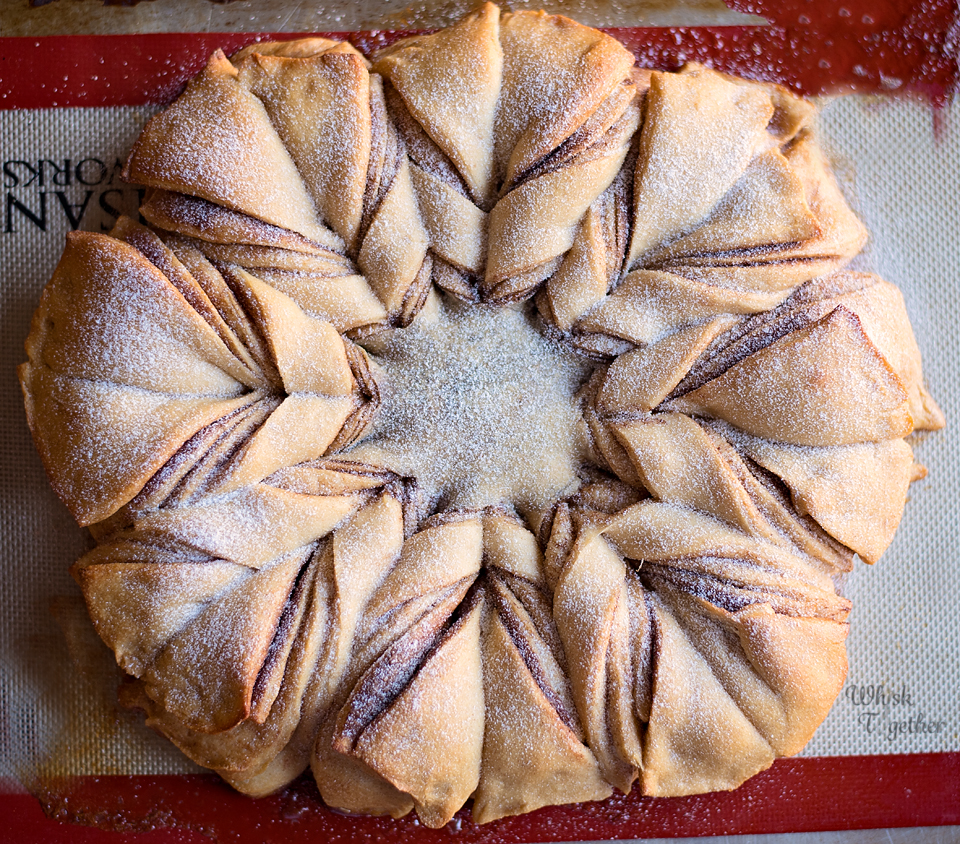 :
Mary Ellen P. Riley / Whisk Together
Dough:
1 cup warm milk (110 degrees)
2 eggs, room temp
⅓ cup margarine, melted
1 tsp. salt
½ cup sugar
4½ cups bread flour
2½ tsp. bread machine yeast
Cinnamon Filling:
1 cup brown sugar
2½ Tbs. cinnamon
3 Tbs. butter, melted
Raspberry Filling:
¾ cup raspberry jam
½ tsp. cardamom
Topping:
1 egg yolk
Add the bread dough ingredients to your bread machine per their instructions. My Oster Bread Machine states to add all the liquids first. Then, pile the flour on top, poke a small hold in the top of the flour to add the yeast. Put bread maker on "Dough Cycle".
Mix together your filling ingredients.
Once the dough is finished, divide into 4 equal pieces. On parchment paper, roll the first ball into a 10" circle. Brush with butter if using cinnamon filling. Add one third of your filling. On another surface, roll out a 10 " circle. Put it on the filling. Add one third of your filling. Repeat and add the final 10" circle on top.
Now to twist! Simply make a 2-3" circle outline in the center of your dough. I used a biscuit cutter. You could use a glass or cookie cutter, but just press LIGHTLY. Next, using a paring knife or kitchen scissors you will cut the dough towards the circle into 16 equal pieces. To do this, I cut it into fourths, then eighths, then sixteenths. Now the fun part!! Lift up two pieces next to each other and twist them AWAY twice. So they should twist both towards the outside. Once twisted, lay it down and pinch the ends together. Do this for each pair of twists and you will have 8 pretty snowflake points.
Cover and let rise another 30-60 minutes. Beat the 1 egg yolk and brush on top. Bake on a rimmed cookie sheet on parchment paper at 350 degrees for 30 minutes.
Feel free to add a sprinkle of powdered sugar on top or powdered sugar icing with powdered sugar/milk/vanilla drizzled.
Recipe based on my Cinnamon Roll Bread Machine Recipe post
Recipe by
Whisk Together
at http://www.whisktogether.com/2017/12/09/snowflake-cinnamon-wreath/